Happy Hump Day everyone!!!
I had part 2 of my annual checkup at the vet's office today (Mom took me yesterday for part of my shots and then the other part was today so I didn't puke all over like I did last year when I got them all at once). Here's me yawning in the car because we had to be there at the CRACK OF NINE! Oy!
I got right into a room to wait for Dr. Graves...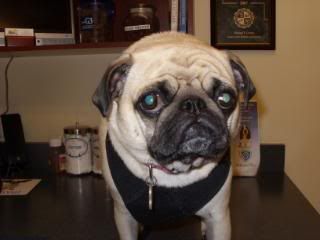 OK, mom...tell me again...HOW many shots do I get today?
Are you SURE it's only two?
You better not be messing with me...you'll be sorry!
Here I am with Dr. Graves after he gave me my 2 shots (mom was telling the truth after all!)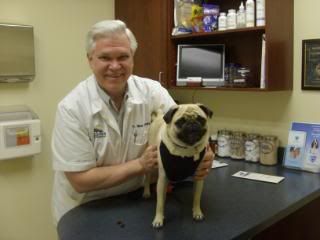 He is SUCH a nice vet! He even told me that he would take me home with him in a heartbeat! I don't think mom would like that much, but it's nice to know I have options in case she quits being generous with the eats!
Now THIS is where things get weird....
There is another nice vet that works with Dr. Graves named Dr. Boucher. She came in to say HI to me and asked if I'd like to see her BIRD named Joey!
Normally I yell at the birds outside and chase them out of the yard...but mom told me that I had to be nice to this bird.
Maybe if I don't look at it....it will be ok......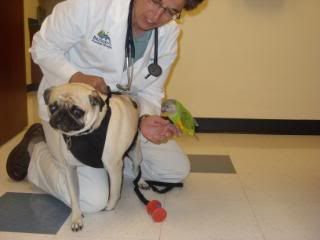 Nope...not looking!!!! You can't seeeeeeee me!
Ok...I don't want to be rude to Dr. Boucher...so I stole a TINY peek at Joey (just to be polite of course)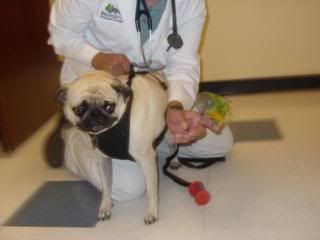 GAAAAAAAAAHHHHHH!!! I think that bird was looking at me!!! I guess I need to start being nice to his relatives outside in the yard!
Other than that...I have a CLEAN bill of health (and NO bird flu! hahahaha!)