Mom has declared herself SICK of the way their bedroom looks (totally unfinished) so she finally decided to start working on it. She PAINTED (silver/gray) while Dad was in Chicago and picked out a new duvet cover and down comforter and shams for the big cloud bed. Here is the finished product....
She and dad LOVE it and told me as we went to bed last night "Salinger, if you puke on this new bedding...I'm dropping you off at the MEAT PACKING PLANT in the morning!" (I'm kind of a pukey pug...it happens).
Fast forward a few hours to around THREE AM! Mom and dad are both SOUND asleep and I decided to do some redecorating of my OWN and add some more color to this new bedding ensemble. Mom won't gross you out too much...but let's just say that she was half coherent and cleaning up my PUKE and using a LOT of swear words at me. She TOOK MY STAIRS away so I couldn't get back up into the Big Cloud Bed and told me to go sleep with Holden (which I HAPPILY did).
Somehow...she got it all off the new duvet, but look at her BRAND NEW down comforter.....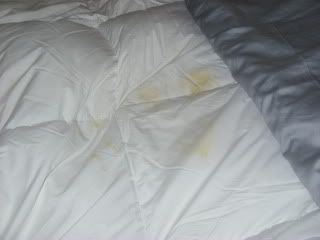 Nice! Cloud white tinged with PugPuke orange!!!!! Lovely!
Here are my stairs...which now lead to nowhere...
...and ME trying to figure out how the heck I'm going to get back up there to do some more redecorating...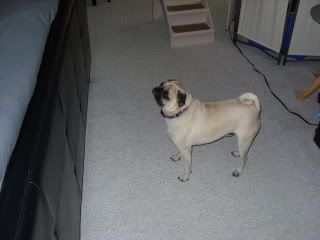 Here are just SOME of the farkakte cleaning products that mom is going to use to get the white cloud comforter WHITE again before taking it to the dry cleaner.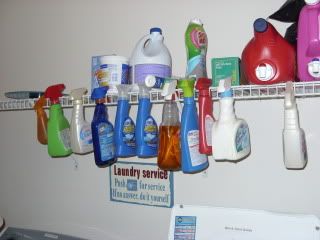 She's pretty used to getting PugPuke out of things...as you can see.
Look how sad and pathetic I am...all while mom is yelling at me and talking about going to that Meat Packing Plant again....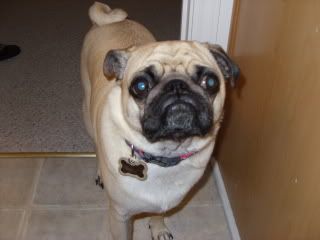 I'm going to use this on my "ADOPT ME" poster that I'm going to post around the neighborhood. Now I ask you....WHO wouldn't love this face to puke in their bed???
Here's me making a run for it down the hall to Holden's room where I don't have to listen to her yelling bad words at me anymore...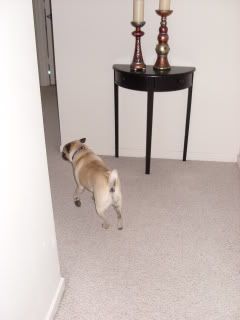 Man...she's got some lungs on her!!!!
***Mom's note*** Just before everyone flips out worrying and tells me to take him to the vet......he's fine. He's just "pukey" and from what I understand...it runs in his family. He's always been this way and I think it has something to do with the days that end in Y that make him yack. He's running around being crazy today like nothing is wrong, so he MAY escape the Meat Packing Plant this time after all!