Ok, so mom bought me these things called "Bully Sticks" after hearing about them from a few of our other doggie friends and our blogger buddies
Sunshine and Mud Puddles.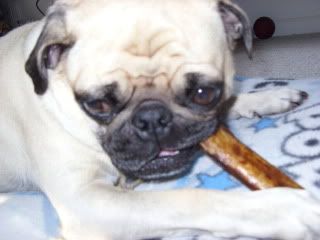 For those of you that don't know what a Bully Stick is.......you may NOT want to know......but if you're brave...
CLICK HERE
for an explanation.
Mom thought this would be a nice treat for me, so she got a package of them and gave me one this morning (figuring that it would last me all day!)
NOM NOM NOM NOM!!!!
These are the only pics that mom got because I ATE THE WHOLE THING in about 5 minutes!!!!!!!!!!!
Mom said she kind of expected that I would like it (I don't know WHY she would think that! ;-) but she had no idea that it was even possible to eat it that fast like I did.
I didn't even throw up......it just gave me bad gas...and THAT'S no bull!!!!!