WHOOOOOOHOOO! We had a Mini-Mardi Gras at our house last night! Be sure to check out our
FREEZER BLOG
today because it goes hand in hand with our entry here about BEIGNETS (pronounced Ben-YAYs)!
You may remember a few weeks ago when
Heather and Harry
sent us a special care package (
CLICK HERE
). Mom made red beans and rice for dinner and decided that it was time to bust out the beignet mix and get to work.
Here she is giving them their powdered sugar dusting after they were cooked......
TAH-DAH!!
Before they were ready for tasting...mom made some iced cafe au lait (JUST like they serve at
Cafe Du Monde
...home of the beignet!)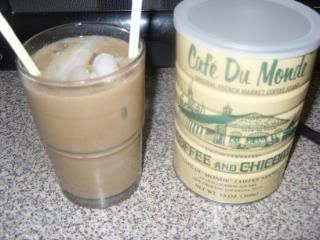 Ok...sample time.........
Daddy said he felt like he was sitting in the French Market in N'awlins and Holden just said "OMG!"
Then it was MY turn!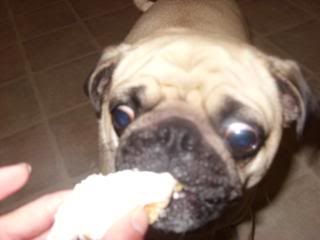 Are you KIDDING ME with these???? These are freakin' AMAZING!
The worst part about beignets (well aside from them being like a bajillion calories each) is that you get wicked "powdered sugar face".....as seen here......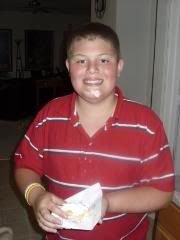 ...and here....
That's ok though....it's totally easy to just lick it off!