I'm sure by now you've all heard the news that Gidget the Taco Bell Chiahuahua has passed away.
Here I am with my Gidget stuffie paying my respects....
Just in case you've forgotten...here is some of Gidget's finest work....
(SNIFF!) I need a moment........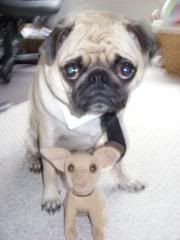 I think to help with my mourning...mom should zip down to the new Taco Bell down the street and fetch me a nice Crunchwrap Supreme!