Hi everyone!
Friday night, Mom, Dad, Holden and I went to the
HOT DOG FESTIVAL
in Frankfort, IN (hahaha...get it?...FRANKFORT!?). It was about an hour away from where we live, but we thought it might be fun and different. We saw LOTS of THESE guys there....
but I was the ONLY Pug in sight!
Here I am in the grass waiting for my dinner!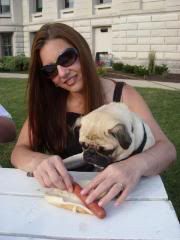 MMMMMM!!!! Look what I got!!!!!!!!!! YUM!
I ate my hot dog in like 2.5 seconds flat...then I snarfed up all the crumbs of kettle corn and other junk under the table while daddy and Holden were eating!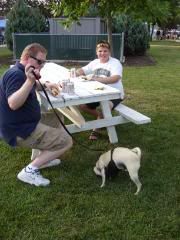 Mom says hot dogs are "vile" so she ate kettle corn instead.
After dinner, we sat and listened to some of the locals sing karaoke. It was pretty funny!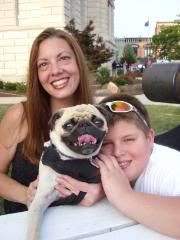 I kept waiting for another hot dog...but I just got smother hugged instead!!!!