Hi everyone! Well...I got some revenge on mom today for subjecting me to forcible Pug mingling on Saturday (previous post). I jacked her up BUT GOOD, and afterward...I overheard her say something about the "meat packing plant" to dad again! Yikes!
Here's what went down today............(please note that these pics are a reenactment of the events of earlier today)
Mom and I were in the car (normal, right?). She had to stop at the Gas America in Fortville to fill the car back up. Now, NORMALLY when she stops to get gas, she tells me "STAY" and I do...right on my pillow like I'm supposed to....like THIS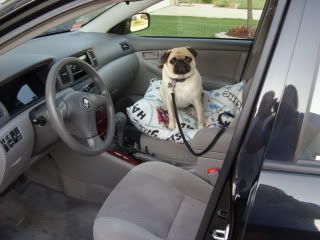 BUT...I was feeling particularly SAUCY today and decided to slip out with her...kind of like THIS...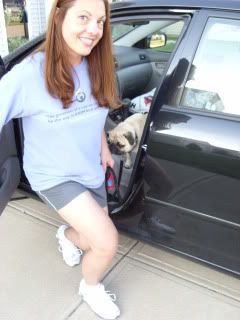 Mom felt me jump out (good thing she didn't slam the door on me!) and before she could even react...I TOOK OFF across the crowded gas station!
She SCREAMED "SAAAAALINGER!!!!!!!!" and went into full blown BAT-$#!T CRAZY LADY mode! She threw her keys on the ground, threw her wallet at a nice old lady next to her, kicked off her shoes and TORE AFTER me. She got close and then did what can only be described as the Superfly Splash move (remember the old WWF Wrestler named Jimmy "Superfly" Snuka?)
Check this out if you want to see the move mom did to capture me.........
She had a MUCH cuter outfit on when this actually happened...remember, this is a reenactment! The good outfit made it WAY more funny!
Can you believe she GOT me on her first try???? The end result looked something like THIS in the Gas America parking lot...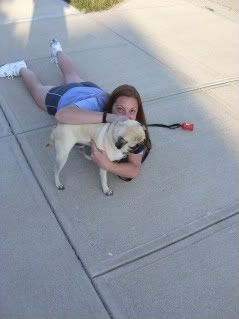 A truckload of painters asked mom if she was ok or if she needed help (a little late!) When they realized she was ok, they told her she should check to see if Gas America had surveillance cameras because she could wind up on YouTube with that dive!
Once mom recovered from her heart attack enough to move...she realized she had gravel stuck in her leg and was bleeding in a few places from where rocks poked her. She's going to have some nice road rash on her leg for a few days! (You might have to biggify if you want to see anything gross)
Check out that guilty "I'm sorry" face I have! Do you think she bought it??? HAHAHAHAHAA (SUCKER!)
Happy Monday everyone!