Mom is wiped out and doesn't have much to blog about today...so enjoy this cute pic of me yawning on Holden's bed...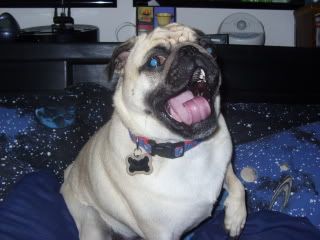 ALSO...check out this commercial for a local grocery store chain we have here in Indy (Marsh). Mom love this goofy song and has been walking around trying to make the popping sounds and making us all crazy.
Play it a few more times and we bet you'll be trying to "pop" it too!
ALSO...for those of you following along with our
FREEZER BLOG
, mom has decided to keep going because we STILL have a ton of crap in there. Make sure you
check it out
and see what kind of mystery stuff we're finding for dinner!