Happy Tuesday everyone!
Mom took me to see Dr. Graves (my V.E.T.) this morning so he could make sure my UTI has cleared up. GOOD NEWS! It has!
While we were waiting...mom took this pic of a poster on the wall.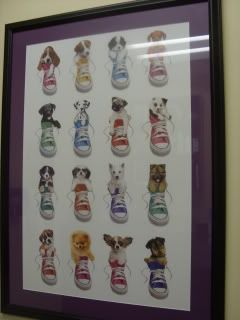 Check the second row down...third dog over! PUUUUUG!!!!!
Here I am with one of my favorite Vet Techs...Lisa. She is so sweet to me and tells me that I'm a good boy even as she's sticking the thermometer up my hiney!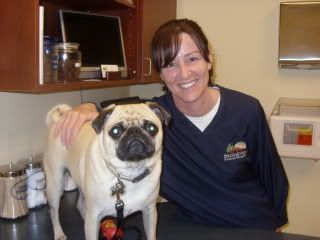 I don't like that hiney treatment...but I kissed her anyway...
Then my buddy Dr. Graves came in to see me!!! My Cinnabon tail got all waggy!
With a Vet this nice...HOW could anypug hate going?
After I got my "all clear"...Lisa took me to see the BIG PUG out in the waiting room!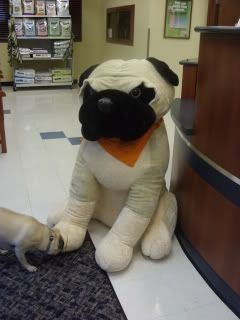 Can you believe someone just DROPPED him off at the office with a note that said "Please give me a good home!"????
There were too many interesting things to sniff...so mom picked me up and posed me with BigPug.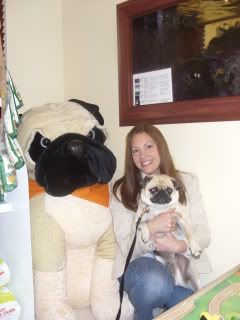 MOM...you're showing my "business"!!!! Avert your eyes everyone!!!!
After my appointment...mom took me next door to their grooming salon for a nail grinding!
I did NOT enjoy this "side trip" so I've decided not to speak to her for the rest of the day because of this "bait and switch" maneuver she pulled on me today.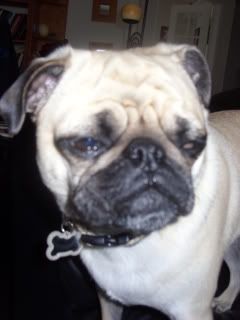 That'll fix her!!!!!
Seriously...thank you again to everyone at Bridgeview for keeping me healthy!! You guys are the best!
Have a great Tuesday to everyone! (except mom...she's still in the doghouse with me!)