Hi everyone!
Mom was gone on Thursday and Friday with Holden for his 4th grade overnight trip! All 4 of the 4th grade classes at his school traveled to Vincennes, Indiana and then on to Lincoln State Park for some CAMPING and then to Corydon (Indiana's FIRST state capitol) and then finally HOME last night.
Here is a pic of them yesterday morning. Mom is looking rough...she slept on one of the tables you see in the background!!!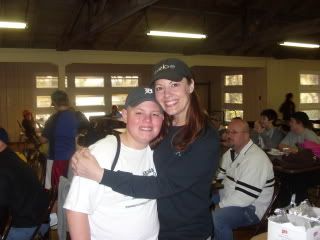 I was home lounging and enjoying the ENORMOUS breakfast that daddy made for me because he thought I ALWAYS eat an entire cup of food for each meal! YUMMMMY!
Mom promises to blog for me after she gets the "camp funk" scrubbed away and gets all of the laundry done and is satified that a mouse or bat or other gross woods creature didn't burrow into anything and is waiting to scare me.
Happy Saturday everyone!