HAAAAPPY BIRTHDAY TO MEEEEEEEEE!!!!!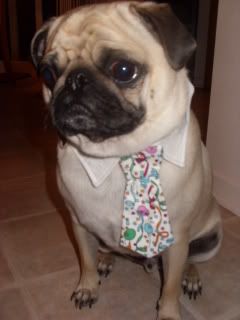 Yep...that's right! I, Salinger The Pug, am officially TWO YEARS OLD!!!
Mommy, Daddy and Holden had a party for me last night!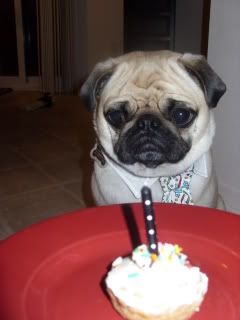 Mommy made me a banana pupcake!!! YUMMY!
I tore that pupcake UP!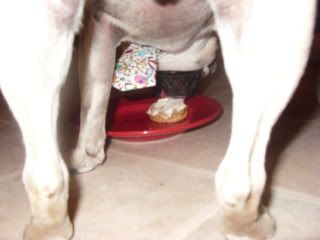 I even violated the "no food outside of the kitchen for anyone under 18 years old" rule of our house and took my pupcake to my purple monkey pillow!!!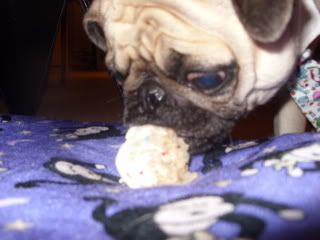 Mom didn't even yell at me!!!!
THEN I got to open my present! Notice mom chose the pretty pink bag just for ME! (hahaha...she "gets" me!)
OOOHHH what IS it???
A DUCK!?!?!?!?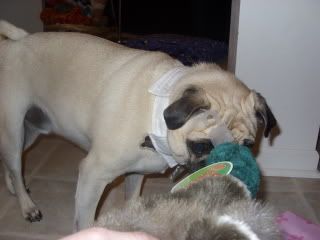 YEAAAAH! This duck (we named him "Drake") totally ROCKS!
Check me out "breaking him in"!!!
MAN...what a night! Stay tuned for another blog installment of my birthday tomorrow because my buddy/life partner
PUGSLEY
is coming over to celebrate with me tonight!!!!
I leave you with this last picture...one of mom's favorites...me kissing my PugMom Gertie when I was only ONE DAY old!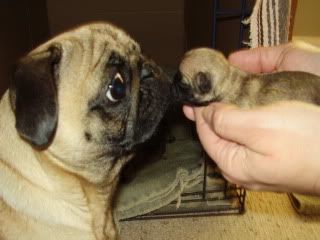 Happy birthday also to my littermates (I'm a sextuplet!), Bert, Diggy, Dudley, Tibbi, and Betty!!!!
**PEE-ESS...THANK YOU so much to
APOLLO's
mom Jami! She did the COOLEST photo montage of Apollo and I at meetups!!! You guys are pawsome!
CLICK HERE
to see it!
**PEE-ESS-ESS....Apparently I share my natal day with some other VERY cool dudes! Make sure to drop by their blogs and wish them well today!
Happy Birthday to
BAJAS
! He is from NORWAY and our new bloggie friend (and HOW cute is he?)
Happy Hatching Day also to
GILBERT
(Emmitt the Pug's feathered sibling).
Wow...tax day is THE day to have a birthday!!!!