Bonjour everyone! Today, I, Salinger the Pug wish to share my artistic side and quiet mom down at the same time. She's been squealing about her tulips (which is about all she can grow without killing) and has been trying to take some pics through the door and they came out looking all artsy fartsy with reflections and weird lighting.
SO...without further ado...I give you....TULIPS...A Photo Composition!!!
#1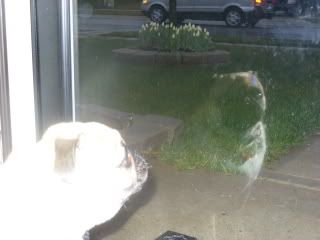 It has been rainy and soggy here in Indy the last few days, so this captures the sadness of the tulips in the cold pre dawn rain (notice me looking forlorn in the foreground)
***Mom's note*** Whatever, Salinger...you have that look because you were whining because you had to pee and wouldn't go outside in the rain!
#2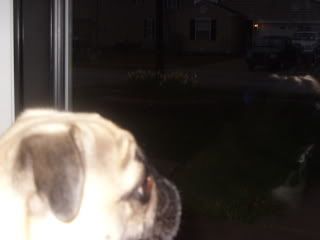 The tulips are screaming in the darkness, while I stand by watching helplessly
(***and still had to pee!)
#3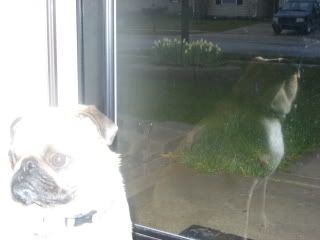 "Tulips and Hungry Pug" is the title of this one. I was done admiring them and was wondering when mom was going to GET ON THE STICK and make my breakfast!!!!
(***Maybe after you get on the stick and go out and take a leak...we'll talk about breakfast!!!)
#4
Ok, maybe the tulips looked better in the rain and darkness...it seems that HALF of them didn't even come up around the tree this year (notice the bald spot on this side). OOOPS! Looks like we're going to have to re-bulb this fall!!!! Note the anguished look on my face when I finally saw the tulips up close in the daylight. Gaaahhh!!!
Enjoy the photos and make sure to check back with us tomorrow evening...TOMORROW IS MY BIRTHDAY and I'll be 2!!!!! Mom and dad think it's total crap that I was BORN on tax day and they can't even claim me as a deduction.
Happy Tuesday everyone!