Hi everyone! We had the BEST time on Saturday afternoon! We were supposed to go to the Pug Meetup, but didn't make it (long story) but we DID make it to the Semi-surprise birthday party that
Vikki and Dennis (of Pug Posse
) had for
Kelly (of Pugs and Bugg
)at their house!
Remember...my mom Gertie and brother Bert (whose new nickname is P.I.T.A. for Pain In The @$$) stayed with us over the weekend while their family was in Florida. Check us out rollin' to the party in our chauffeur driven Taurus!
When we got to the party,
Jessica
had PRESENTS for mom, Kelly and Vikki!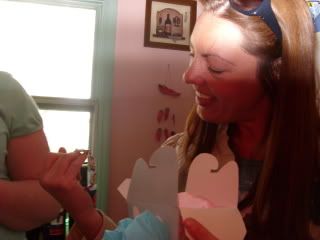 She made BRACELETS for them...with PICTURES!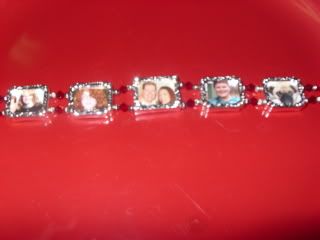 Can you see mom's bracelet pics? There's Lizz, Will, Mom with Daddy, Holden and ME! Can you believe that?? How NICE! Thank you Jessica!!!
There were NINETEEN Pugs and only SIXTEEN people at this party!!!! Here are some of my pals having fun with the German Shepherd next door. I didn't participate in this exercise and stayed by mom instead.
How FUNNY is this????
After all that running...it was time to eat!
Stacy (Brutus and Miley's mom
) was like a Kindergarten teacher and got most of us to sit for pieces of apple!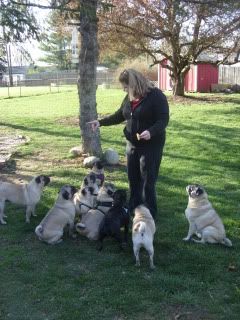 Hank
and his dad, Scott enjoyed a cold one on this nice spring afternoon!
Make sure to drop by
HANK'S BLOG
to see some EXCLUSIVE pics of some other goings on at this party!!!!
Once chow time was over...it was hardcore picture time!! The Indy Pug Moms Blogger group is growing by leaps and bounds!!! Just LOOK at these crazy ladies!!!!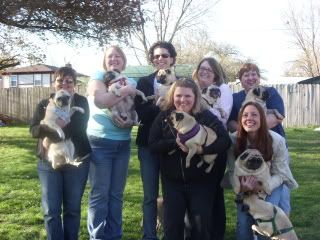 OK...back row starting on the left...
Sarah
,
Jessica
,
Heather
,
Kelly
(who is responsible for starting this whole mess!) and
Vikki
.
Front row is
Stacy
and Laura (MY mom...the blog you're reading now in case you got confused!). Notice mom is holding PIPPIN instead of me...I was being turdley and wiggly and wouldn't let her hold me. That's P.I.T.A./Bert that snuck into the picture to sniff Pippin! He's not right.
Sadly, this picture is missing
Jami (and Apollo).
We're all sorry to hear that Jami was in Michigan for her mom's funeral and want her to know that we were all thinking about her and are sorry for her loss.
After the Pug moms were done...we had to get a pic with all the PUG DADS!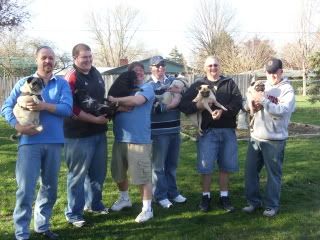 That's Scott with Hank
Brian with Dixie Bugg
Dennis with Jasmine
Kevin (MY daddy!) with ME (I was done with my turdly behavior)
Mark with Pugsley
Ryan with Lilo
THEN...we couldn't leave out the Pug BROTHERS!!!
Sam with Eddie
Holden with ME (Salinger)
Justin with Pugsley
Awww...mom needs a close up of her two babies....
Jeez...what a sap!
Here is Kelly posing with her cake that mom made (RED VELVET with CREAM CHEESE frosting! YUM!!!)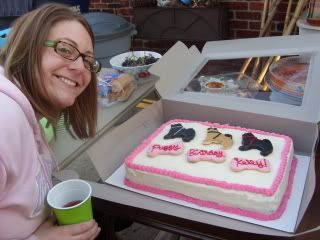 Can you see the pug cookies? Mom used the cool cookie cutter that
Heather
got for her! Here are close ups....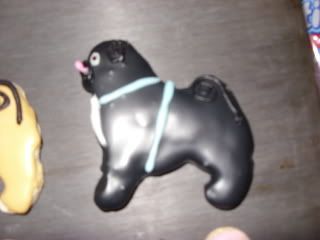 Dixie Bugg (note the noseguard!)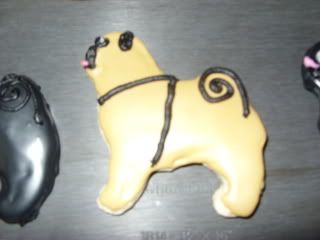 Sophie (notice tongue barely sticking out)
Sweet Harles (mom didn't know of any oddities with his tongue)
HEY!!!!!! WHAT THE...?????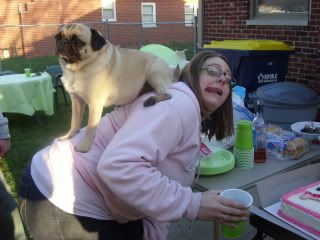 Um....Kelly, you've got a puggy on your back!!!!
After all this fun...I was TIRED (and MUDDY!).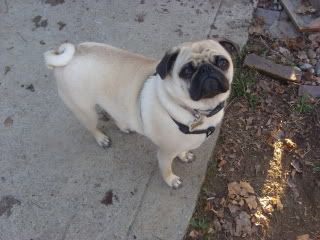 My LOOK told Mommy that it was time to go HOME!
Since we were all muddy....we all got BATHS when we got home! I ran and hid under a blanket when I was done, but Gertie and Bert/PITA sat on the couch and looked angry.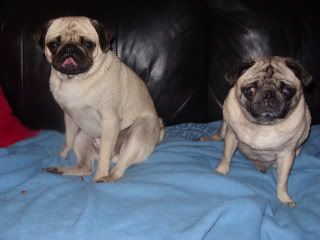 Bert even fell asleep sitting up! HAHAHAHA!
So that was our exciting weekend! How about all of you????