Ok, mom wants everyone to know that she's NO tree hugger, but she IS trying her best to make an effort to be "greenish". She stopped being all yelly about those farkakte twirly light bulbs that dad put everywhere in the house and she is QUITE proud of her big shopping tote bag collection!
SO...when she went to WalMart today to pick up flour, salsa, vitamins and new soccer socks for Holden, she was a tad miffed about THIS waiting for her at the end of the checkout thing.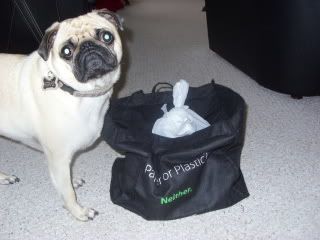 UM...HELLL-LLLOOOOO???????
She wants everyone to know that she is going to REUSE that offending plastic bag to pick up all my land mines in the backyard.
That will teach her to be browsing for GUM and to leave the cashier to scan/pack her stuff unsupervised! Sheesh!!!!