Greetings everyone! Today we are going to try something new...a MUSIC REVIEW!
We were one of the lucky winners of the "Guess What I'm Posing For" contest over at
Murphy Dogg's blog
and won THIS...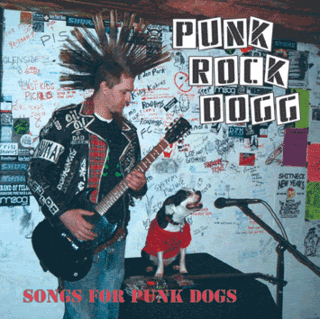 Mom almost peed herself she was so excited about this! She has been known to suffer from NEAR bleeding ears from blasting some of her old school Punk stuff. She even got ME into the scene in my younger/wilder days! Check this out...
HAHAHAHAA!
OK enough of this fooling around...time to be serious and get on with the review....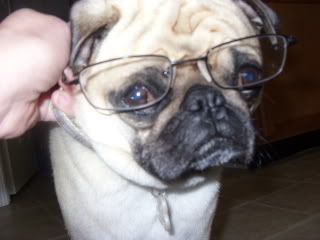 AHEM.....
First up, "Punk Rock Dogg"...
LOVED it! The Dead Milkmen have got NOTHING on Steve "Mastiff" Mallon. The lyrics were brilliant (we especially loved the comparison of the PUG to a big fat sausage!)
Second, "My Dog Is a Punk Rocker"
Does Sheik "Shih Tzu" Kolb realize that he totally captured the sound of the dear, late, great Joey Ramone?? The song is haunting, moving and made us want to jump up and down tearing up stuff. Sheena would be proud.
The next two we believe to be original songs sung by the honey voiced Darla "Dachshund" Kitt. "I know a Dog" has this great retro vibe to it that made us want to don a black beret and give snaps, while "Mama's Little Monster" is smooooth and made us want to just chill and then figure out how to play the CD backwards to hear a secret message.
"Punk Rock Dogg Bop" is Ramones-esque and Cedric "Rokkdog" Crouch's style gives the song a great playful feel. Good for rubbing tummies or just running around like a maniac with someone's stolen underwear in your mouth.
Then...our favorite "I'm an @$$hole"...Murphy Dogg's lyrics are even better than Dennis Leary's and mom has been singing it for two days now. The lyrics about the litterbox snacks and licking himself leave you with visuals that are guaranteed to make you laugh, cry and possibly even gag/vomit...but in a good way.
We must also mention that the CD is peppered with vocals from Murphy Dogg himself (barking) which is especially pleasing to the canine ear (translation...it makes dogs go BAT$HIT CRAZY and run around the house looking for the other dog!!!)
So all in all....we have to give "Punk Rock Dogg, Songs For Deviant Dogs" FOUR PAWS UP (crap...no wait....4 paws up would look like someone croaked!....) Make that TWO enthusiastic paws up!!!!
Murphy Dogg's Mom Colleen (who is SO cool, BTW!) says that starting on FRIDAY (4/10/09) you too can be the proud owner of this hard to get CD.
CLICK HERE
, purchase $40 worth of Punk Rock Dogg merchandise, and the CD is YOURS!
This concludes our first installment of Critic's Corner. We hope you all found this review to be helpful and informative. We're going to keep listening to
Murphy
and his pals while I do my best RCA Dog impression...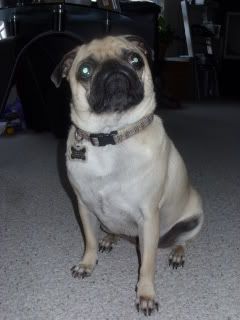 Happy Hump Day everyone!