HI everyone!
WOW...we have SO much to blog about that Editor Mom said that we're going to have to split it up into installments over the next few days!
First off, we wanted to share some great pics from my short vacation at
Little Rascal's Pet Motel
! I really love going there because Lloyd and Gail (the owners/inkeepers) are SO nice and they have two Pugs of their own, so they totally "get" me! Mom always gets all flipped out and sad when I have vacations there, so she told Daddy that HE had to drop me off so she wouldn't be all blubbery and ruin her eyeliner since they were going to Michigan.
Mommy and I played all morning...here we are in her closet where she tackled me and said her goodbyes!
She likes this pic because my eyes are extra googly! Hahaha!
She made Daddy take the camera when he dropped me off so he could get a pic of me in my room.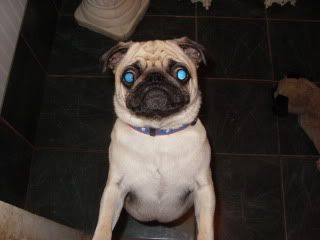 NOOOOOOOOOOO!!!!!!! DON'T GO DADDY!!!!!!!! (***MOM'S NOTE***...Ok...in retrospect, this pic PROBABLY wasn't the best idea. Salinger appears to be in a much more tragic state than usual!)
Mom booked me in
The Garden Room
furnished with "a beautiful canopy bed along with dishes fit for a queen" (which mom thought TOTALLY sounded like me! Hahaha). The Garden Room is in the back wing of Little Rascals, and there were some big/loud dogs staying in a neighboring room. Gail thought I would be more comfortable up front in a brighter, quieter room...so she moved me and my toys into the
Taj-Mutt Hall room
! Check me out!
I waited and waited for the help to fan me with palm fronds and feed me peeled grapes, but apparently the grapes are Puggy poison...so I just had kibble.
Gail was so sweet to me and even let me help her work on the computer in the office!!!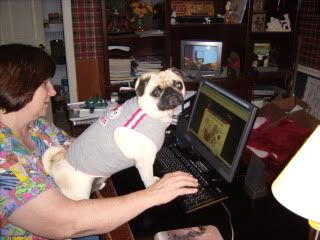 "Hey Gail....the Teddy Bear Suite needs some extra towels!"
Yesterday (Friday) mom had booked me a SPA DAY with Gail! She gave me a good scrubby bath, gave me a no-polish manicure, "Happy" cologne and tied this festive bandana around my neck to make me look extra handsome! Mom has NEVER been able to get me to wear a bandana, so she's going to have to figure out what in the world Gail's secret is! Here I am back home in the Big Cloud Bed showing off my bandana and squeaky clean self!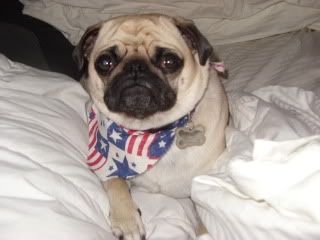 We have SUCH a busy day today! We're going to meet STUBBY and his family and take them to our INDY PUG MEETUP today! We'll blog about that later as well as Holden's last day of school and the peeps' trip to Michigan!
Happy Saturday everyone!