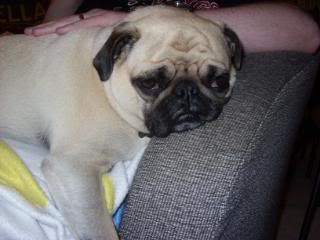 As you can see from this photo...Salinger is in NO mood to blog today, so I/Mom/Laura and taking over for the day to give a brief rundown of our quick trip last week!
While Salinger was at Little Rascals, Holden, Kevin and I escaped to Michigan for 2 days to visit 3 of my dear friends and their families. I realize that other people's vacation photos are about as exciting as watching paint dry, so if you'd just like to gaze at the above pic of Salinger...you won't hurt my feelings in the least!
We left Wednesday right after Holden was dismissed from school and was officially declared to be a FIFTH GRADER (wow!). We drove to Marshall, MI and stopped at
Turkeyville, USA
because we've seen the signs for years and also saw them on Food Network and were so anxious to have their "Thanksgiving Dinner" plate!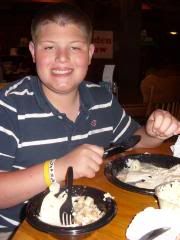 They tout "family style cooking".........which we kind of agree with...if the cooking were done by the crazy chain smoking drunk Aunt that doesn't know how to cook!!!!
We hate to be food snobs...but you can clearly see that Kevin was NOT a fan...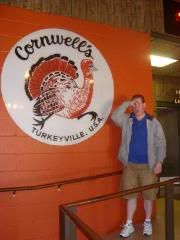 The best part of that visit was the funny restroom sign!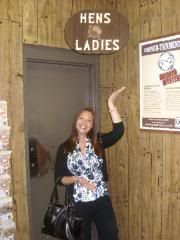 I am waaaay too easily amused!
Next stop was our destination of Brighton, MI (town where I lived from the time I was six until I graduated from college!). My BFF Susan still lives there with her hubby Tom and two adorable daughters. We stopped by work to see her when we got into town!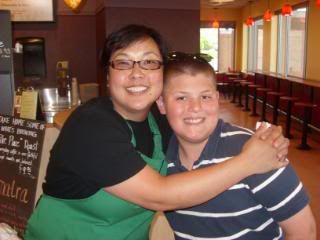 She's our favorite Barista!
We spent the afternoon checking out the changes in town, swimming at the hotel and just relaxing with nothing to do. I got up early the next morning to pick up some goodies from
Marv's Bakery
to deliver to friends and drove by the house where I lived.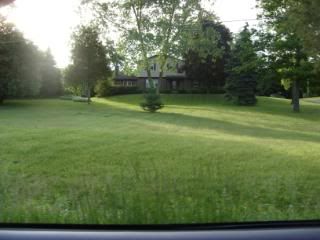 The house looks ok, but my dad used to keep the yard absolutely MANICURED and pristine and there were a lot of weeds out by the road and you could just tell that it wasn't given the same level of TLC. :-(
We then went to visit Susan (the Barista in the earlier pic) and her daughters, Olivia (a.k.a. Livvy) and Elyse (a.k.a. Lysie) while Hubby Tom was at work. Here I am with Susan...
Wow...best friends since the first day of 6th grade. You can imagine the stories and dirt we have on each other!!!
The kids had a blast playing together...Holden is a very good babysitter!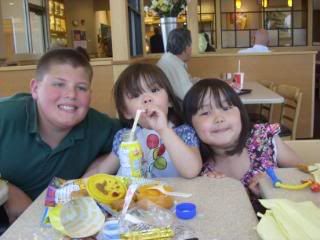 We all had lunch at Wendy's!
Next, we went to go visit my friend Beth (author of
Blog O' Beth
!) who was another one of my best friends through middle and high school. She and her hubby David and kids Lucy and Max live in Texas and were home visiting her parents.
The clothes and hairstyles may have changed on both of us...but it's like 20 some years never even happened!
Mrs. C (Beth's mom) and Holden are kindered spirits. They had a great time going through all of the goodies in her basement and she even gave him some Lego sets that she had been saving!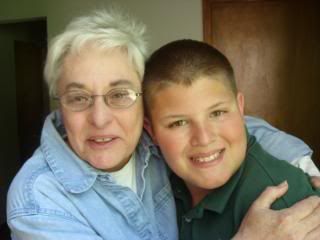 Mr. C (Beth's dad) has always been a big donut fan...so we brought him some of Marv's finest!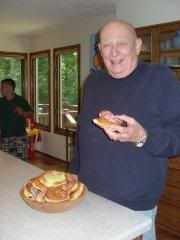 Kevin and 5 year old Lucy discussed current events....
While David and Beth posed for a nice picture outside...
Make sure to check out
Beth's BLOG here
. She is hilarious and you'll especially enjoy her if you have young human children!
Next stop was our hotel in Southfield, MI where we saw my college sorority sister, Jennifer and her hubby Jeff and boys Riley and Sam.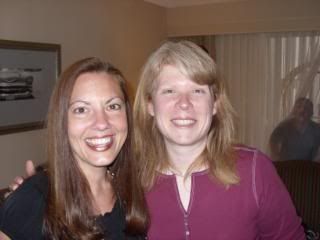 We used to have VERY BIG hair in the early 90's when we were in college, but I think we look better now with our smaller hair!
We had to laugh because Kevin and Jen met face to face for the first time the day we took these pictures.......so how does that explain the genetics involved in this picture with her 2 boys??? (HAHAHAHAA!)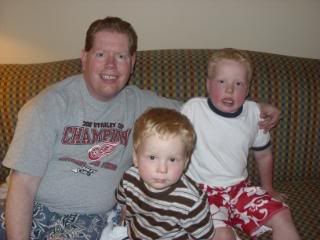 We had a great time swimming with them and just hanging out and catching up.
Next morning, I took a paparazzi style pic of Kev and Holden having breakfast in the cafe below while I was 7 floors up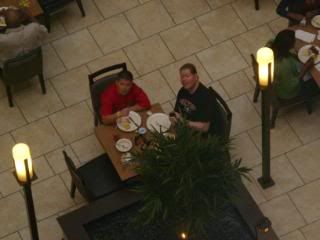 Hey is that Jon Gosselin and another mystery woman behind them??? HAHAHAHAA!
We headed for home, but had to make our usual "last official Michigan stop" and pick up my piece of
Grand Traverse cherry pie
. Mmmmmm...nothing like those sour Michigan cherries!
So that was some highlights from our whirlwind 2 day trip to MI! I promise that tomorrow we will return to our regularly scheduled PUG programming and will tell you all about our big day with
STUBBY
!
Happy Monday everyone!