Hi everyone! I had a HUGE surprise today! Mom and I heard someone at the front door...when we got there,
JANIE THE MAIL LADY
was backing her mail truck out of the driveway and waving and we saw THIS hanging on the front door!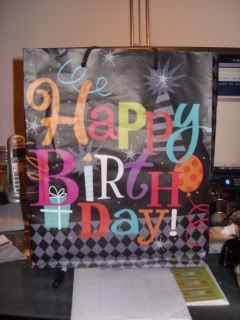 A belated birthday gift for ME!
Poor Janie knew my birthday was April 15th, but has been having issues with getting new carpet in her house, and all of her furniture had to be moved out to her garage so the carpet people could do their work. My present was stuck out in the furniture all this time! LOOK was sweet Janie gave to me!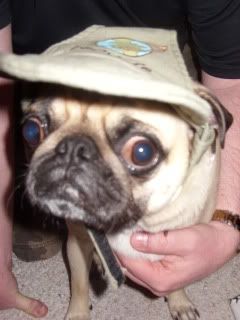 The hat says "Recycle"! How did she know that I'm in cahoots with
Stubby
, my Eco-pug-pal?
There was a cool collar/bandana that also says "Recycle"! I feel totally Eco-Chic!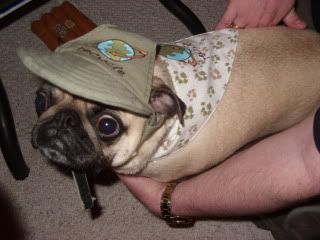 There was also a cool leash that matches the hat and bandana!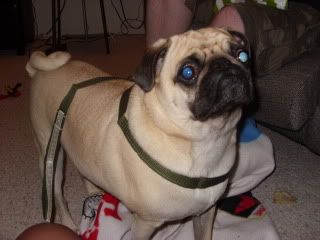 I got a little wound up!
Janie also gave me this COOL picture frame!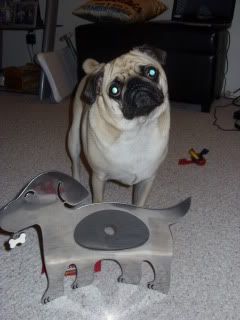 It's a DOGGIE! Mom says she has the PERFECT spot for it! Pics will follow!
Also in the bag was this yummy STEAK!
It's HUGE and will be a nice treat to keep me busy for a while!
THANK YOU so much Janie! You are the best mail lady and such a nice friend and I just love everything in my birthday bag! I'll be sure to give you some extra kisses when I see you next time!
We just found out that Janie is not going to be delivering our mail for a few months because she has to have KNEE SURGERY! Since Janie is a regular reader of my blog, we want to wish her lots of good luck and a speedy, comfortable recovery!!! We'll miss you!!!