Yep...that's ALL mom's been saying lately..."It's SOOOO freakin' HOT outside!" She's been dragging my butt out of the big cloud bed at SIX THIRTY to do our 2.3 miles before it gets too hot outside, which then means that I don't usually speak to her for the rest of the day...
SIX THIRTY? Are you NUTS?
Just so you don't think we're being all dramatic about this...here is a pic of our weather station thermometer the other day...
The first number is INSIDE and the second number is OUTSIDE
I kept going out on the deck to snooze in the sun but mom was all flipped out and worried that I was going to roast myself or get overheated. She put Holden's sleeping bag out there for me to lie on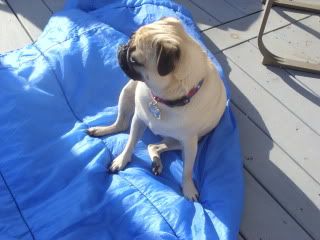 Ahhh...this is nice and cool! HEY WAIT A MINUTE......what is she dragging out here now????
Whaaaaaat is this farkakte thing???
A huge bowl to drink from???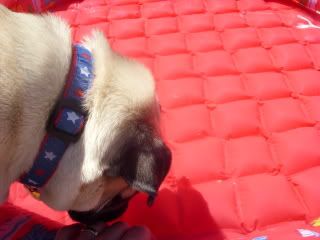 A baby pool??? For ME???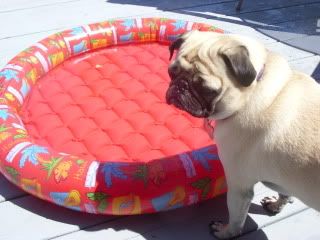 I'm thinking NO!
Mom PICKED ME UP and plunked me down in the water. I stood there for a minute and just glared at her (sorry...no picture) and then walked out and then back to my nice warm spot on the deck to dry off.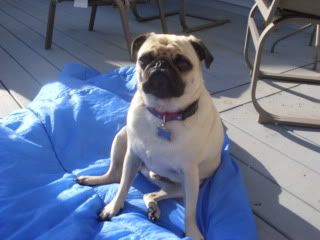 I'm NOT a fan of the baby pool!
Happy Saturday everyone!
***MOM'S NOTE*** Ok...before people start calling the ASPCA on me...I'm NOT leaving Salinger outside all day! He has a doggie door and free run of the house and comes and goes as he likes, and just prefers to lie out in the sun and then comes in when he's had enough. We did this little pool experiment around 10 am when it wasn't as hot outside.