Hi everyone! Well, even though I technically have been "out of the closet" since my tragic bust up with Soph-aay a few months ago, I am now proudly displaying my "status"...shall we say?
Mom had lunch with
Hank
's mom (Aunt Sarah) the other day and LOOK what she bought for me in Milwaukee at the PugFest!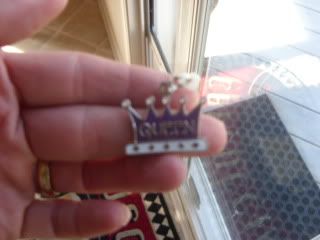 I know it's hard to see...but it's a purple and silver crown that says "QUEEN"!
Mom thought it would look very "Village People" on my black leather studded collar!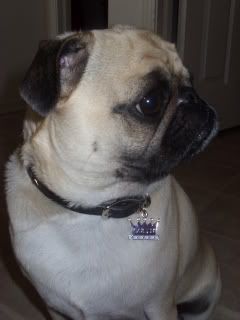 Wow...check out that PROFILE! Is it any wonder that my life partner/BPF Pugsley finds me irristible?
(click here for a flashback!)
Mom says I look like I should be the PosterPug for a
PFLAG
chapter for Pugs (if such a thing ever existed)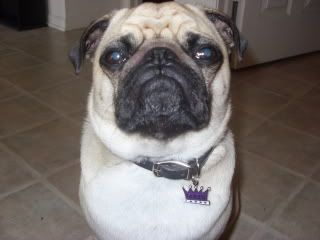 (stay tuned and check back here...dad is going to snap a pic of her in her PUG PRIDE tshirt)
Thank you Aunt Sarah! I love you more than Judy Garland and I love my new "Queen" charm and will wear it proudly!
OH...and TGIF everyone! WHOOHOO!!!