As promised...Editor Mom is breaking up all of the excitement into installments so as not to overwhelm my dear readers/followers.
Today, we must issue the "Braggy Proud Parent (and Pug!) Alert" because this post is all about Holden and to congratulate him on a HUGE finish to his 4th grade year!!! Wednesday was his last day of school and AWARDS DAY! Students are recognized for all kinds of things from perfect attendance to academics and all of the fun extra curricular activities in between. The school has that stupid "No pets" rule (duuuuuumb!) so of course I wasn't allowed into the Awards Day festivities, but mom and dad got some shots...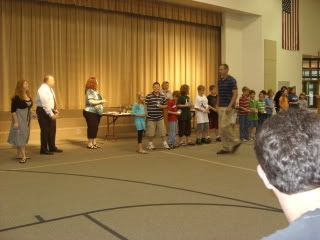 Holden is in the navy and white striped shirt! See him???
Here is Holden (on the right) with his best buddy Seth (brother of M.I.A. busy blogger
Chelsea/Maggie Marie
)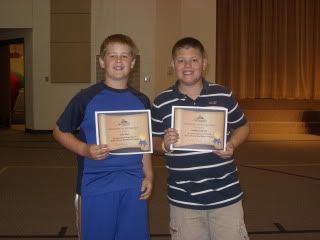 They are showing off their "Young Hoosier Reading Awards"!
Since this IS technically MY (Salinger's) blog...mom got a pic of both of us with ALL of Holden's awards!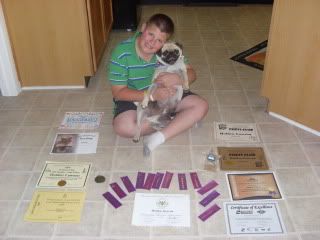 We're all so PROUD of you Holden!!! Great job!!!! Look at all of those...reading awards, Chess Club, Science Fair, and most importantly...fabulous grades!
Mom is most proud of Holden for this...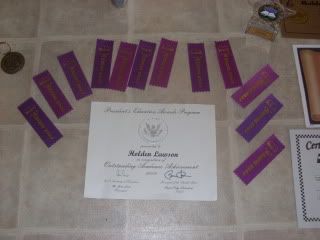 It is the President's Educational Award for Outstanding Academic Achievement and has President Obama's signature on it!!! OMG!!!
The blue ribbons are Holden's collection of "All A Honor Roll" ribbons that he has recieved with each report card since they started giving letter grades in 3rd grade last year. He has been on the ALL A Honor Roll EVERY SINGLE TIME!!!!
Way to go Holden!!! We couldn't be prouder of you and will be cheering for you for a repeat performance in FIFTH grade too!!!!
Stay tuned...we still have to tell you all about the Michigan trip and then our Pug Meetup and visit with STUBBY yesterday!!!