Yesterday (Saturday) was THE day! The annual Pug Sextuplets Birthday party and Family Reunion!!! All six littermates get together to celebrate our birthday (April 15) with our Pugparents, Gertie and Rufus! Of course all the peeps come along too!
Click
HERE for last year's (2009) party
and then again
HERE for the year before
(2008)
LET'S GET THIS PARTY STARTED!!!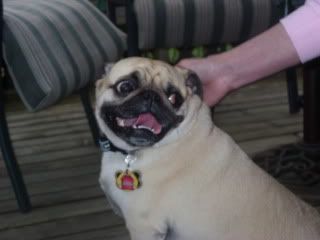 Want to know how I got to be so cute and handsome???
It runs in the family....here's my PugDaddy...RUFUS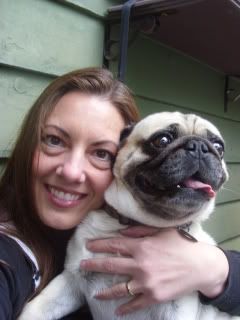 Here's my PugMommy Gertie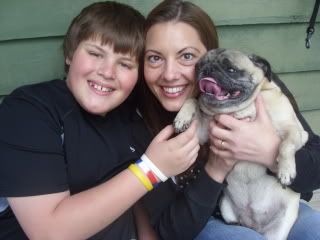 Two of my brothers and one sister couldn't make it yesterday...but here's the line up of everyone that WAS there (you can click to biggify)
Starting on the left is my sister Betty, brother Bert, ME, My mommy Gertie and daddy Rufus!
There were a LOT of foodables for everyone!!! Andy (Gertie's human daddy) was the grillmaster!
Mom made this pupcake for us puggers...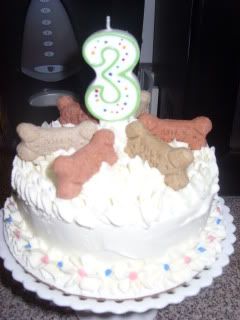 ...and she made this PEOPLE cake for the hoomans (it was a layer of chocolate and a layer of vanilla buttermilk!)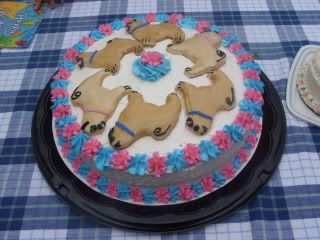 BLOW OUT THE FARKAKTE CANDLE SO WE CAN EAT ALREADY!!!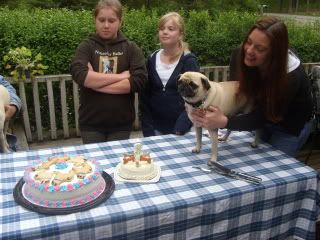 Cripes, Mom...I'm STARVING!!!
Mmmmm! Banana pupcake!!!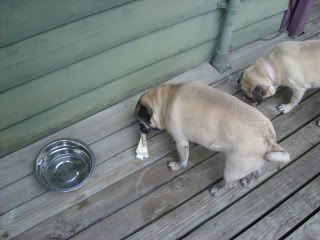 Nom nom nom nommity nom nom nom nom!!!!!
There was even ENTERTAINMENT!!! This Weiner guy named DOUG easily ate his weight in foodables....
We all laughed at the idea that he could eat a lot because he was so L O N G that it probably took a while for the food to travel to his other end! HAHAHAHAA
We had a look alike contest....I think my sister Betty and I won that!
Betty is with Mom and I'm down in front!
Ugh...I think I'm in a FOOD COMA!!!
Can we go home so I can poop in my own yard please??? After all this partying...it's going to be supersized!!!