Hi everyone! We had SUCH a busy weekend! Mom is going to post about it in pieces because I'm still taking a nap and recovering.
Saturday afternoon THE CLARKS (sans
The Pug Corral
) came by to visit, rub my tummy, and bring me a BIRTHDAY PRESENT!!!!
"HI Julie and Bill!!!" (James and Rita, the Younglings were on the other side of the room).
Oooohhhh a present for ME?
I recognize this smell....it's from THREE DOG BAKERY!
WHAAAAAAT IS IT????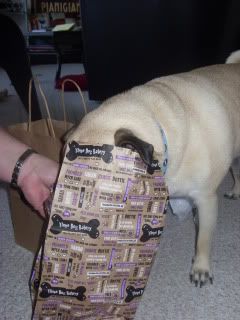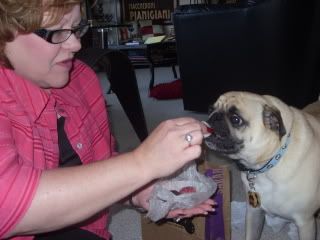 MMMMM RUFFLES (like truffles, but RUFFFFles....get it?)!!!! OH thank you Clark Family(and thank you for feeding them to me, Julie!)!!!!
Wait...there's MORE???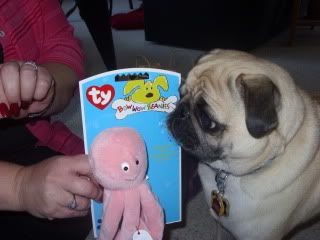 NO WAY! My very own OCTOPUS (or "oppopus" as Holden used to say when he was a baby!)! My new oppopus has crinkly stuff in his legs and I named him "STANLEY" (Red Wings fans will get that reference!)
Thank you so much Clark Family! You shouldn't have (but I'm SO glad that you did!!!) Come by any time!
Happy Monday to everyone!