So Mom just UP AND LEFT me home with Daddy last week. Some crap about her going to Arizona to be with Mimi and Pa (her parents) out in the SUNSHINE. Pssshhhhhh....
Here I am TRAUMATIZED by the notion of my primary caregiver/cook/Lady-in-Waiting leaving me!
Here is a lovely pic of Mom (in the coral) whooping it up with Pa and Mimi in the White Tank Mountains. (Sigh...boy...I would have LOOOOVED hiking with them!)
Mom tried to make me feel better by taking all these silly pictures of Mimi's Golf Club cover that looks exactly like me.......told me some B.S. about her feeling like I was there with her!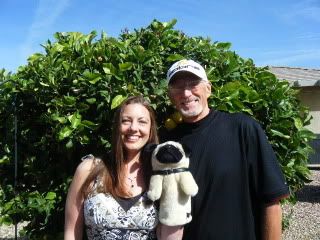 With Pa
With Mimi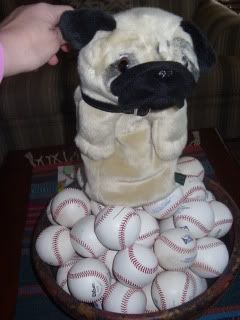 Sitting on a pile of Spring Training baseballs
The Ant that guards the front door
Ooohhh...quail eggs!
Pretty flowers
On the Rosemary hedge (mmmm....smells SO good!)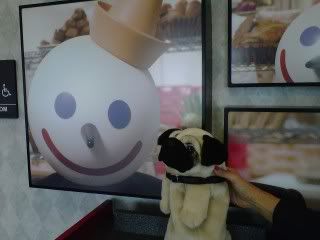 At JACK IN THE BOX!!!! WHY did she torture me like this? We don't even HAVE Jack in the Box here in Indiana!
As if THIS wasn't bad enough...mom has a mess of pics of her CHEATING on me while she was out there!
This is Mom holding Ellie....a cute Bichon/Maltese mix that belongs to one of Mimi's good friends (Hi Mrs. Carbary!). Ellie is pretty cute, so I can let that one slide...but check THIS out....
HOLY CRAP!
She's CHEATING ON ME in broad daylight with another PUG!!!! This dude is named Hercules and mom says she's going to do a whole post about him tomorrow. This ought to be good! She better come up with a GOOD story for cheating on me like this!
(***Mom's note*** Don't worry....it's a GREAT story and you'll all LOVE it!)
Mom was gone ALLLL that time and I figured she'd at least bring me home some decent swag to make up for it.....NOPE!...look what she brought me....
LEMONS!!!??? What the @#$% am I going to do with these????
Mom DID give me lots of kisses when she got home and also some extras from Mimi and Pa. It's a start!!!!