Mimi is flying in from AZ to see me today!!!!
Mom said that I was "ripe" and took me to PetSmart Day Spa to be "De-funkified".
Here's me BEFORE….
OH MY HELEN KELLER!!! I could hardly stand myself!!!
Luckily a really nice lady named Rachel thought I was cute and took really good care of me! She must not have a very good sense of smell…which is probably a good thing!
Here I am with Ms. Rachel AFTER….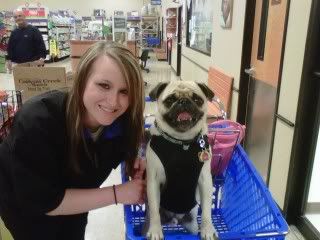 Ahhhhh!!! MUCH better!!!!
Good thing Ms. Rachel thought I was cute…mom was afraid they'd send me down to the Fluff and Fold to have THESE two guys take care of me!!!!
Stay tuned for Mimi pics!!!!