Mom is still playing "catch up" (mmm ketchup?) with everything, so here is our post about Puggy Meetup last Saturday at Broadripple Park!
Here I am riding in the car...OOOHHHH I love car rides!!!
It rained earlier in the morning, but the sun came out on the way to the park and it turned out to be a pretty Spring day for our meetup!
"AAAAHHHHH SUN!"
We think the earlier rain kept most people away, so it was a nice intimate crowd!
Here I am hiding and acting turdley while Mom paid attention to other puggies...
Here is mom with the newest member of the Pug Posse...ROMEO! He is SO fluffy and SO sweet and just melts into your arms!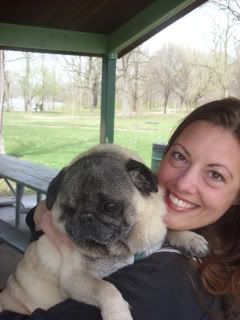 You can read about sweet Romeo
HERE on the Pug Posse's blog
. Our good friend
Jami (Apollo's mom)
busted up what we think was a puppy mill and she was able to "spring" Romeo! YAY!
Speaking of
Apollo
....he has a new girlfriend (at least that's what SHE seems to think!). Her name is Maggie Pug and she's the newest Indy Blogger!!!
Check out her bloggie here
and check out this picture of Maggie in "action" (she's the one in the pink t-shirt)!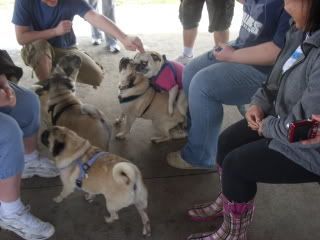 Wait...I think we need a closer look at this....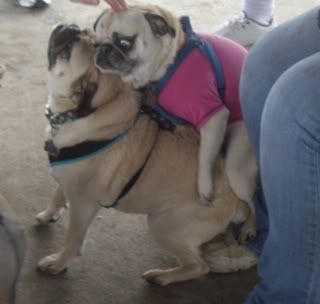 HOLY PUG! Someone get the hose!!!!!
The entire Meetup group talked about chipping in to buy Maggie a dominatrix costume, but she seemed to be able to tell ol' Apollo what was up without it!!!!! ;-)
This is our other new buddy, Claude Pug!!!! He doesn't have a bloggie yet, but we're working on it!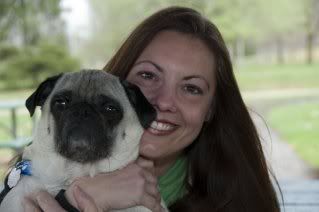 Isn't he HANDSOME????
Pippin (a.k.a. The Pugfather) had some sort of "message" for his Puggy Minions...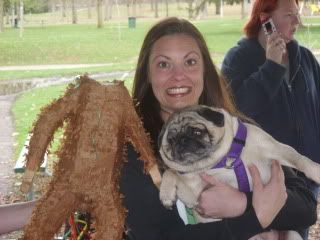 We think the headless monkey pinata means something along the lines of "Luca Brazi sleeps with the fishes". Yikes! Don't cross Pippin!!!!
Claude's daddy took some great pictures...here is one of the Indy Bloggers that were there this time...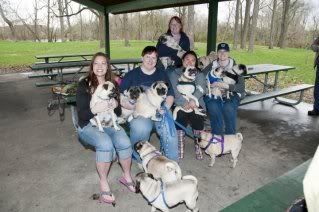 Front row is Mom (with me)
Vikki from The Pug Posse
Jami with Apollo
Cindy with Yoda and Brutus
back row is
Jessica with Lilo
I started to get whiney and overstimulated, so it was time to go home...
"ROOOOOOOO!"
Mom had to assure me that I'M still her favorite...
Heh heh heh! She's such a sucker!!!!
Happy Thursday everyone!