As promised...today we'll tell you all about our new buddy HERCULES!
A few months ago, mom got an email from some nice people that said they read our blog and have a Pug named Hercules! They had just gotten him a VERY cool winter coat!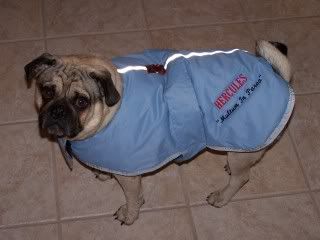 Does the slogan look familiar??? "Multum In Parvo"!!!!
A few more pictures and nice notes later, we found out that Hercules lived in Arizona and likes to ride around in his golf cart!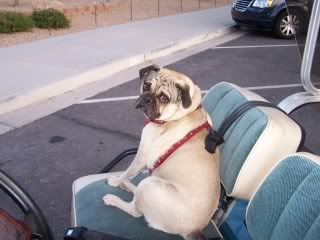 WELL....as it turns out...out of ANYWHERE in the world....Hercules and his family live in the SAME neighborhood as Mimi and Pa!!!!! How weird is that???? Mimi has seen him riding around in the golf cart and even told me about seeing another Puggy!
Recently...mom got an email with some not-so-good news about our new buddy Hercules...here is his story from the Pet Club newsletter for their neighborhood:
"We received word from Ray B. that his dog Hercules was injured playing at the pet park. Hercules received a compound fracture in his right front leg when he was bowled over in play with a boxer.

As a result he will no longer be able to whiz through airport security without being scanned. The surgeon in Glendale that operated on him stated that "Dog Parks are a great idea in theory, but that we see many injuries from these facilities." Just an FYI, my local vet cost $350 to confirm Hercules' leg was broken in two places just above the elbow; surgery clinic was $4,100 for the operation, and there will be a further charge on the 16th for the x-rays. Hercules is doing very well, considering, and is putting more weight on the leg each day. He continues to enjoy parking near the Pet Park and has seen several of his "buddies" over the past weeks, including Brandy, Patton, and Daisy. I won't be bringing him back into the compound but we will be walking the perimeter when he is again able. I would really like to thank all the folks for their caring - Hercules thanks them too!
All the members of the Pet Club wishes Hercules a speedy recovery."
POOR BABY!!!!!!!!!!!
Since Mom was visiting Mimi and Pa, she made arrangements to meet Hercules in person and give him some healing snuggles (so I guess it TECHNICALLY wasn't cheating after all!)
Herc's cast is off now, but he's still walking a bit gingerly on his front leg.
Mom made some special treats for him...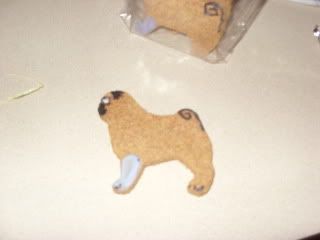 With a purple cast just like Herc had!
Hercules is a VERY handsome Puggy!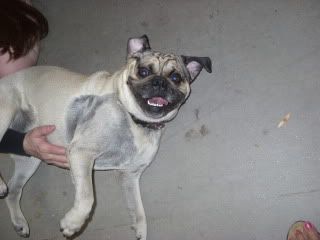 Who LOOOOVES tummy rubs just like all good Puggies do!
He has the CUTEST B-Tot (Black Tip Of Tail)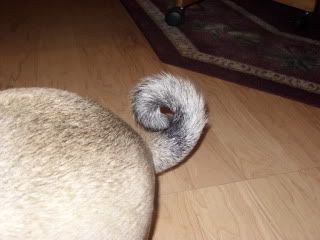 (We took this pic for you
Pearly
!)
Mom had such a nice visit with Hercules and his peeps and think they need their own bloggie too!
Keep us posted with your recovery dude!!!
After mom left...all she could think about was this clip from The Nutty Professor...
SO I guess if I wanted the treats and tummy rubs to continue....I had to get my panties out of a bunch and forgive mom for ditching me.
Happy Hump Day everyone!!!!