Hi everyone! WOW...what a birthday bash! I spent most of this morning recovering and curled up in a ball in the front door sunpuddle!
Here I am yesterday all dressed up and dapper with my Punchy birthday tie!
Mom, Dad and Holden took me to one of my favorite local hotspots!!!!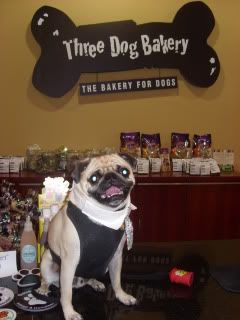 I got to pick ANYTHING I wanted! I got some of my usual favorite crunchy pizza treats and a big bag full of Flossies!
We went home and I got to have some of my banana pupcake that mommy made for me!!!!
Holden and Daddy helped me blow out my candle!
Daddy started to feed me my piece of birthday pupcake....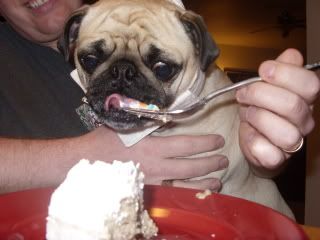 But mom said that it was ok to eat like an "animal" on my birthday! YUMMMMMM!!!
OMG......CAKE!!!!!!!!!!!!!!!
After cake...I got to open my presents! Holden helped me....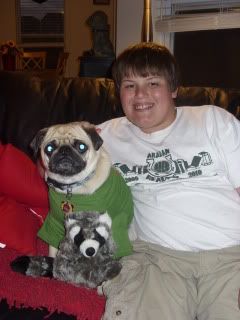 I got a cool green tshirt with a shamrock on it that says "Lucky Dog", a new collar that says "Good Boy" all over it and a new stuffed squeaky racoon that we named BANDIT!
I also got a nice birthday card from Mimi and Pa with a whole DOLLAR inside with a note that said it was for a special birthday ice cream!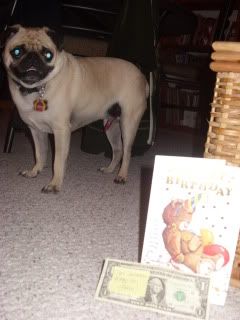 Mom said we can hold onto the dollar and take Mimi for ice cream when she comes to visit in a few weeks!!!!! THANK YOU MIMI AND PA!
Now we all know that 3 in hooman years is equal to 21 in Puggy years....so Daddy said it was time to break out the bubbly!!!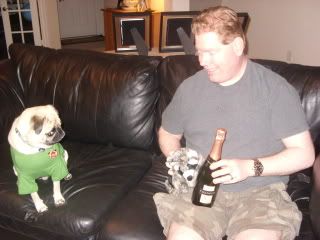 WHOOOOHOOOO PARTY!!!!!!!!!
Thank you ALL so much for the sweet birthday wishes and those that mentioned my birthday on your own bloggies! Mom says we have a whole BUNCH of new friends that we have to go check out and thank for the greetings!!!!
I'm going to find and ice pack and going back to my spot in the front door!
Happy Friday everyone and thanks again!!!!