Hi everyone! I made some new friends (and didn't act traumatized and turdley around them!)! Mom's friend (and Kentuckiana Pug Rescue helper-outer) Annie W. came over with her mom Cyndi the other day! She brought her puggies....
This is SHOOTER
and this handsome fella (getting mauled by mom) is BUTCH!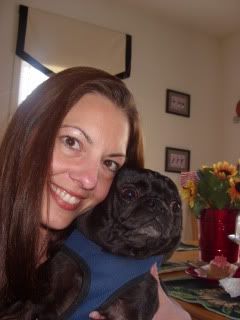 We ran around inside, outside, upstairs, downstairs and had a BLAST! We got LOTS of snuggles from Cyndi (Annie's mom)!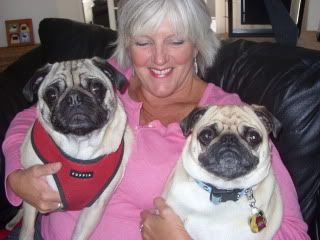 Shooter and I were soaking up all the attention!
OOOHHHH...time for LUNCH!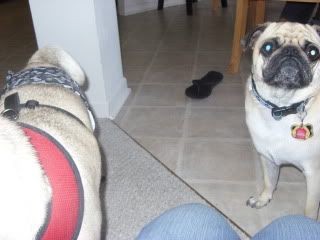 We puggies ate frozen CHICKEN FEET and the hoomans had chicken salad and Cosmopolitan cuppycakes! Yuuummmm!
"So mom....no chocolate means that we get a taste...RIGHT????"
Shooter was looking for handouts too....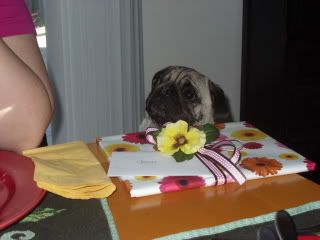 Clearly he's starving just like I am!!!
Shooter and Butch are your typical "velcro Pugs"....look what happened when their mom had to use the little girls' room!
"MOOOOOM! Come back!"
Annie is going to have a baby (like ANY second) and Butch was listening to what his new hooman baby sister had to say to him...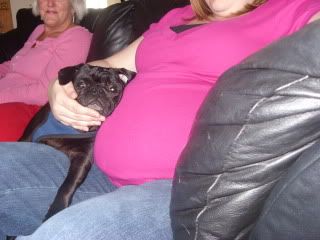 "Hellooooooo out there!"
I think he likes her already!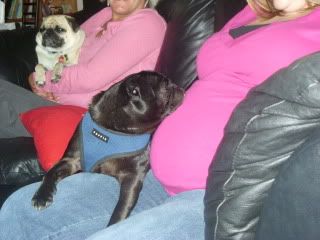 "Come on out!! I want to meet youuuuu!"
They'll be good napping buddies!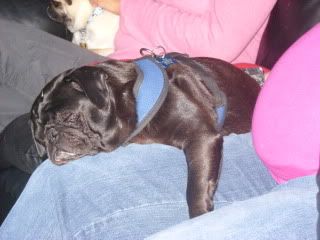 Awwww
Meanwhile...Shooter was securing his place as "Top Dog"
"I'm king of dis couch!!!"
Before they left...we made a cool PUG TRAIN!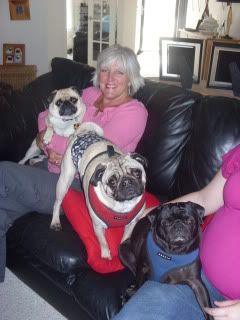 WHOO WHOO!!!! All aboard the Puggy Express!!!!!
Thanks for coming over guys! We had a LOT of fun and can't wait to meet your new baby sister!!!