Hi everyone. As most of you probably already know...one of our favorite pug bloggers,
Penny the Beefy Pug
crossed the rainbow bridge yesterday after some health problems that were just too much for her sexy pug body. Even though we never met her nose to nose (or more appropriately nose to PugButt!) we felt like we knew her and loved checking in with her and her sweet mom Dana every day to see what new adventures they were up to. We wanted to share a few of our favorite pics that made us laugh (and hopefully you will too!)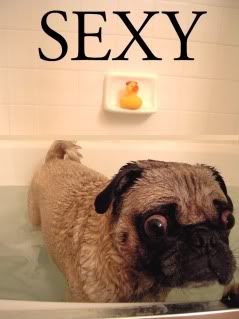 Sexy and naked in the tub!!!!
Getting ready for Thanksgiving...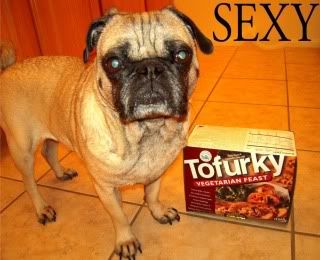 Tofurky will always be SEXY to us because of Penny!
After Christmas...
Saran wrapped the sexy Christmas tree!!! HAHAHAHAAAAA!!!! Mom said it looked like a big green TURD behind Penny!!!
Penny LOVED going to Starbucks with her mom and getting whippy cream!!!! We're pretty sure it was her favorite treat!!!
Look at her go! She got her WHOLE sexy PugFace in that cup!!!!
SO....
Since we can't bring Penny back...mom and I decided that we would have our own special good bye tribute to Penny.....Are you ready???
I put on my best tie and mom bought me some whippy cream and let me borrow her Starbucks mug!
I'm going to have some whippy cream and think of Penny...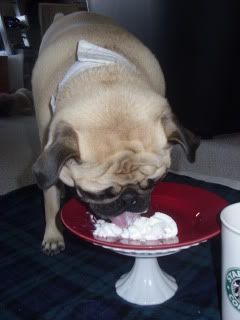 MMMMMMMM! This stuff is GOOOOOOD! That girl knew how to live!!!!!!
NOM NOM NOM NOM!!!!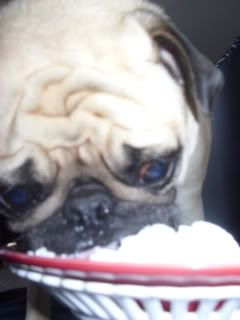 Goodbye dear sweet Sexy Penny!!! We loved our time with you and hope that you're enjoying all the whippy cream you can over on the other side of the bridge!!!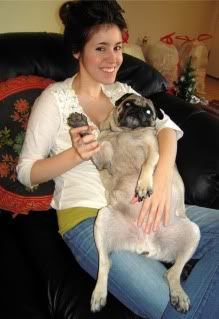 There will NEVER be another Pug that is beefier or sexier than you!!!!