Sorry we haven't blogged in almost a whole WEEK! Mom has just been busy with work and a few other things that keep her from sitting down and focusing on what's most important (me). We've been PUGSITTING for the last few days and we have my friend Maggie here. Here is a cute (according to mom) pic of Holden and his BFF Seth (on the left) with their darling puggies in their laps.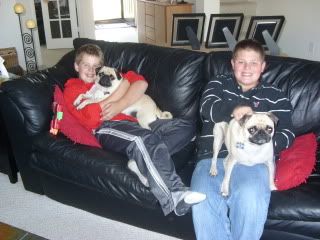 Mom thinks it's funny/weird that Holden and Seth are best buddies AND they both have fawn pugs. (Do you hear the Twilight Zone music playing???)
I like Maggie and everything, but I'm just not sure about how I feel about sharing my space with anypug.
Here are some examples of this foolishness...
1. She totally tried to take over my favorite blanket in mom's study...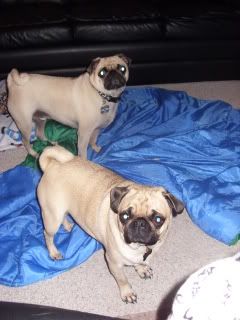 "Hey...move it along sister!!!"
2. She plays with my toys...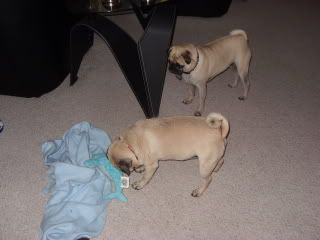 "Umm....how about ASKING first???"
3. She TRIED to go down the stairs ahead of me...but I put the kibosh on THAT!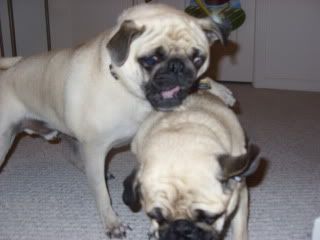 "I don't THINK so!"
4. She even tried to "out-cute" me while posing for pics!!!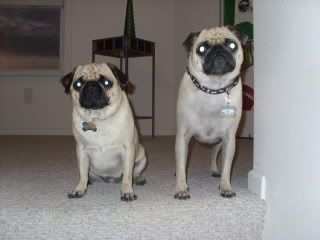 Mom told us to "look distinguished". (pssshhh...as IF I know how to look anything but!)
So I finally gave up and just asked....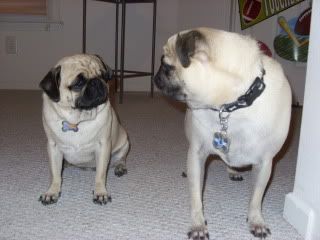 "OK Maggie...do you want to play?????"
Notice she STILL didn't get down the stairs before ME! HAHAHAHA!