Ladies and gentlepugs.....there is some CRAP UP WITH WHICH I WILL NOT PUT!!!!! I have been stationed at the front door all morning barking (and baaaaaarking) trying to ward off these intruders on my front lawn. One guy is PURPLE AND GREEN and answers to the name of "Mr. Enstein" (first name Frank). There are two orange fat guys with no faces and some flowery looking thing. They all look like a shady pack of shysters up to no good....
YOU THERE! GET. OFF. MY. LAWN!!!!
(look how scary I am in the door in the background!)
I'm going to stand here and guard the place, since no one else is!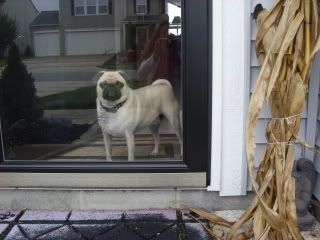 MOM! Quit laughing and call the cops or something!!!!