Hi everyone! You remember
my friend Maggie
, right??? We went for a nice long walk together last week and then we got to PLAY!
We walked past a farm on our walk and LOOK what we saw!!! MOOOOOOOOOO!
I thought they were big dogs but mom told me they were big walking STEAKS! MMMMM!
Maggie and I had fun playing back at her house after our walk!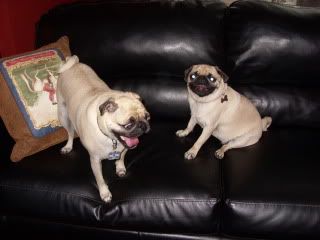 "Pssssssst...Hey Maggie! Let's run around and act NUTS!"
After walking THREE miles, you'd think we'd be exhausted, but NO....it just energized us!
(Ignore mom and Dyan chatting about how they make chicken pot pie!)
Mom says if she could figure out how to bottle Puggy energy, she'd be a bajillionaire!!!!
Happy Thursday everyone!