Hi everyone!
Part of my MIA week last week was spent taking care of my Daddy...he was SICK! He didn't have the Oink Oink Flu or anything...just a nasty cold (that mom refuses to catch!). He stayed in the big cloud bed for TWO DAYS! It was WONDERFUL!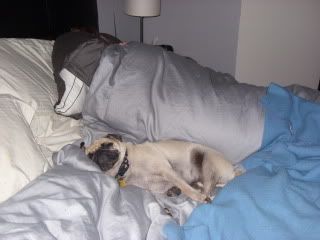 That big lump behind me is Daddy!
I stayed right next to him the whole time!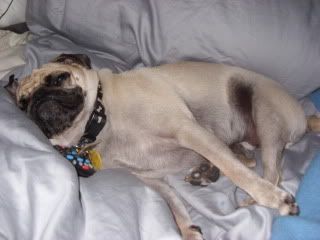 Mom decided to enhance my PugHealing powers with some homemade chicken soup...
Once the schmaltz was skimmed off...it was VERY yummy!
Here is me waiting for my sample before it went up to Mr. Hacky McMucus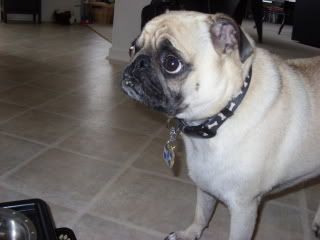 Ahhhhhhh...yummy!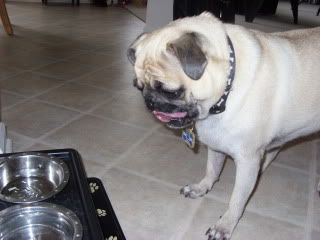 Daddy is doing just fine and is all better now...but we also wanted to share something else with all of you in case you weren't aware of it...
CANINE INFLUENZA!
(CLICK HERE to read all about it)
My awesome Vet, Dr. Graves, told mom about this and recommended that I get vaccinated against this yucky disease. I got my first shot a few weeks ago and I get a booster on 11/2. It didn't hurt at all and it was only $20!!!!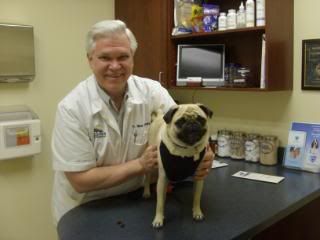 Thank you Dr. Graves!!!!
We recommend that EVERYDOGGIE check with your vet to see if this might be something for YOU!
Happy and HEALTHY Thursday to all of you!!!
PeeS. We especially want to send out some "feel better" wishes to our sweet friend
Lilo
. She's been feeling yucky for a few days now and we hope it goes away asap!