Hoo boy...mom got all "inspired" by
Gen and Foo's mom
and
Pugs and Bugg's mom
(last year) with their cool carved pumpkin/pugkins. Mom has this weird "thing" for tiny pumpkins, so she decided to DRAW a Pug onto the pumpkin....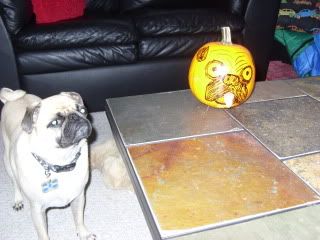 "What the....?"
Now, keep in mind that mom can't even draw STICK PEOPLE correctly, and this was clearly done as a result of being hopped up on regular leaded coffee (instead of her usual decaf)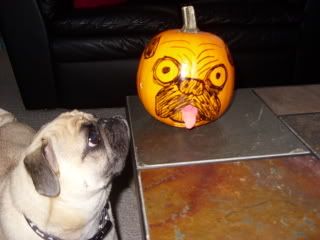 "Mom...seriously....a SHARPIE and a piece of pink cake fondant???"
I don't know what she was thinking either....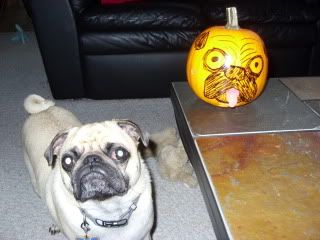 I should check into some remedial art classes for mom so she can draw me something that resembles ANYTHING.
No wonder she sucks at Pictionary!
Happy Tuesday!