Hi everyone! You won't BELIEVE what went down here last night!
First off...Holden lost another one of his teeth (top right canine tooth) at school yesterday. The nurse put it in this cute treasure chest for him so he wouldn't lose it!
At bedtime...Holden put the tooth under his pillow for the Tooth Fairy to come get it.
WELL...since I'd never seen the Tooth Fairy before...I was a little surprised when she actually showed up in the middle of the night with her TUTU and magic wand!!!! I growled and did my best to protect Holden's tooth (after all, it was a CANINE tooth!)
This morning....Holden and I woke up to find THIS under his pillow...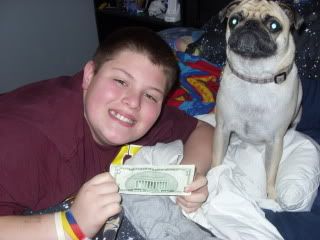 Notice me standing on the pillow STILL GUARDING Holden's tooth!!!! Check out Holden's gappy smile too!
We also found THIS...
It's a NOTE from the TOOTH FAIRY! If you can't see it...it says...
"Dear Holden,
I left you your money for your tooth, but you have quite the watchdog in Salinger. He wouldn't let me take your tooth!
Please note that I have recorded the exact dimensions of your tooth for future reference, so it cannot be used as a substitute for other transactions.
Kindest regards,
The Tooth Fairy"
HAA! I foiled that Tooth Fairy's plan to take Holden's tooth and she STILL left him some money! I must have REALLY scared her! WOW...just imagine of that were a BURGLAR or something trying to steal Holden's Legos or something!!!
I totally think I deserve a cut of that fiver!!!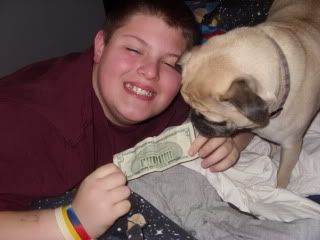 Hand it over, brother! I'm running low on Pegetables!!!!!
Happy Friday Everyone!!!