Hi everyone!!
Do you remember me telling you about Mom's BFF and her family coming to visit us over the summer?
CLICK HERE
for a refresher. Go ahead...we'll wait.
(Final Jeopardy music plays)
Ok...you're back! WELL....the Edwards family got their very own doggie shortly after they got back home from our house! They didn't get a Pug, they got a Gary (kind of a Heinz 57 bundle of sweetness)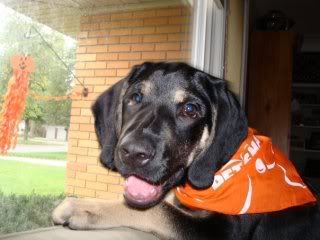 Hello Ginormous Mr. Gary! Please don't eat me...K? Thanks!
The girls adore Gary, but they still have a little soft spot for ME (and WHO wouldn't? Duh!). We understand that Olivia and Elyse are BOTH big fans of my blog, so we wanted to give them a BIG SHOUT OUT and say HI!
WHOOHOO...I'll say ANYTHING for cheese!
Elyse got a cute little "Baby Pug" for Christmas that she named SALINGER! (She says it like "SEN-jer"...how CUTE is that?)
HI Lysie! Your baby Pug Sen-jer looks JUST like me!!!!
Olivia got her first American Girl Doll! Her name is Natalie. I'm sure she and Baby Pug Sen-jer play very well together!
Hi Livvy! Natalie is SO pretty (just like YOU and your sister!)
Here are both superstars posing together. Awwww!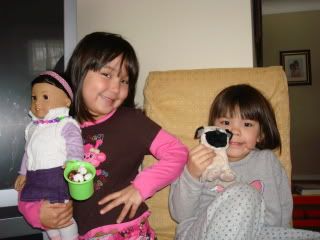 FAAAAAABULOUS!!!
FINALLY...to make Olivia and Elyse giggle...check out the oldest pic that mom has of herself with their mom (Aunt Susan)! Mom thinks this was taken around 1983-ish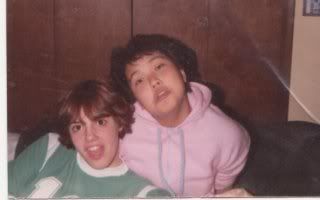 OMG...that's like 189 PUG YEARS ago!!!!!
Happy Tuesday everyone!