Mom got the brilliant idea that I needed one of THESE to play with....
It's a ZhuZhu Hamster.
So mom brought the farkakte thing home from WalMart and let me check him out...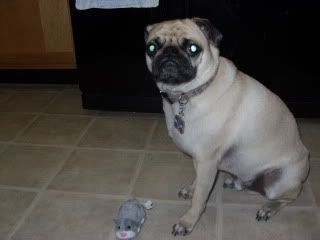 His name is "NumNums" and I guess he's ok...pretty cute and smells like lead from China.
WAIT A MINUTE!!! HE MOVES AND TALKS!!! Mom touched a button on his back and then he scared the holy living CRAP right out of me! Watch this.....
WTF kind of "gift" is this? Motorized vermin that makes farm animal noises? Um....thanks a bunch, Mom!!!!
Happy Friday everyone
(***Mom's note*** stay tuned for part two of this riveting post tomorrow!)