I'm sure you all saw the traumatic post from yesterday where I was first introduced to NumNums the ZhuZhu hamster. He scared the living crap right out of me and made me run for the blankets to hide! Mom was nice and put him up on the game table so he wouldn't bother me anymore, but then I decided to get tough....and show that little hamster turd who's boss around here!!!
"YOU THERE...Hamster...come down at ONCE so I may give you a proper thrashing!!!"
Check me out....
I took a lesson from
my friend Anniebelly
and gave that hamster a SPANKIN'!!!!!
So yeah...me and the hamster? We're alllll good now.
Yup...like two little Fonzies!!!
Happy Saturday everyone!!!
***MOM'S NOTE***
Most of you hopefully know that Hank and Molly's sister Becca (from
I Tell You What
) has crossed the Rainbow Bridge.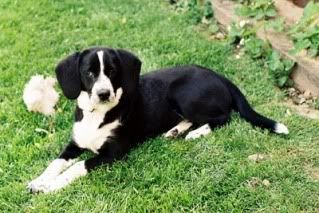 We got to meet Becca in person a few weeks ago and she was such a sweet girl. We hope she's having fun chasing all those squirrels and running like a puppy again! If you haven't already...jump on over to
their blog
and show some love!!!!