Here's another LONG overdue post (yeah, we're going to be playing catchup for a few days!).
On Saturday June 5, we did another transport to help this sweet little PuggyGirl get to her new foster home in KY so she can find a new forever home!
Meet Maddi!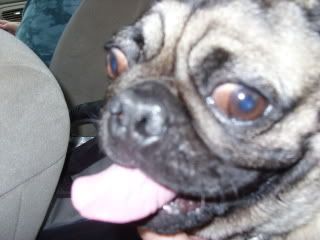 She was such a SWEET girl! Mom had to seriously restrain herself from giving her stupid ex owners a roundhouse kick to the head (yeah, she could do it too! Look out!) because they were giving her up after only 6 months of having her beacuse they claimed that she wasn't potty trained. The dumb lady said "We leave her outside for HOURS at a time and then she'll come in and pee!". O M G!!!!!!!!!!!!!!!!!!
Mom thinks that Maddi will do much better with a family that clearly hasn't flunked "Potty training 101"
SOOOO HAPPPPYYYYYYYY!
She's saying "Thank you for saving me from idiots!!!!"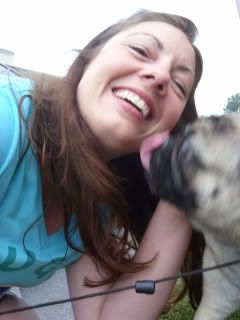 I got to come along (it was a short drive and we were on our way to meetup!). I was afraid mom would hijack the transport and bring Maddi home to live with us....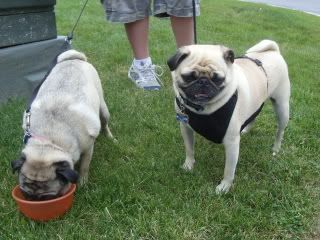 We're not KEEPING her are we??????
Thanks for letting us spend a bit of time with you, Sweet Maddi! We're sure you'll find a new FURever home that will have patience and teach you how to be a good girl and treat you like the princess that you are!