**Warning...grab a snack, this is a VERRRRY long post and contains a LOT of pics!**
Ok everyone....as promised, we are going to tell you all about our big mystery guest that stayed here at our house on Wednesday!!!! (Drum roll please).....
It's
STUBBY'S MOM, MICHELE
!!!!
Unfortulately, Stubby didn't come with her because he was home sitting on the couch with his dad eating Popeyes and other yummies. Michele was on her way to Georgia for a turtling trip and made a special stop here in Indy on Wednesday so she could hang out with ME and rub my belly!
She brought me some very special cookies! The first was a SUNFLOWER (since I'm an "honorary"
Sunflower Sister
and all!)
Nom nom nom nom!
The second cookie was a HAMBURGER! (Hey...Michele...aren't you a vegetarian? We're pretty sure that hamburgers once had parents and faces!!!!)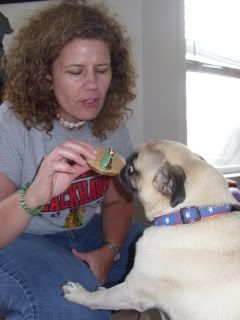 I nommed it up too!
Those two cookies were good...but I had to let Michele know that all people (especially guests) in our house have to share their foodables with me.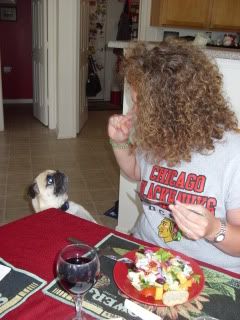 Come on.....give it up, lady!
After dinner...mom started reorganizing stuff and then put THESE (banana pupcakes) out....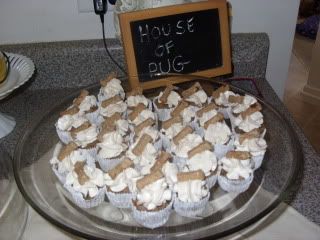 Hmmmmm....that usually means we're going to have VISITORS!
A little bit later...the doorbell rang, and ALL my puggy friends (and their crazy mamas!) all showed up here at our house!!!!
WHOOHOO! Indy Blogger Party with Michele (and CAKE of course)!!!! Here is a group shot of the peeps....
(click to biggify if you want to see who everyone is!)
Roll call...
Heather blogs for
Pugsly and Lola
Laura is MY mom and blogs for ME (Salinger)
Michele is
Stubby's
mom
Jessica blogs for
Lilo
Jami blogs for
Apollo
Sarah blogs for
Hank and Molly
Stacy Blogs for
Brutus and Miley
MISSING from this pic is Julie who blogs for
Reggie Wayne, Dallas Clark and Payton Annie Manning.
Reggie wasn't feeling well and unfortunately the evening was cut short for the poor little dude.....
Here are some assorted puggy pics of the festivities....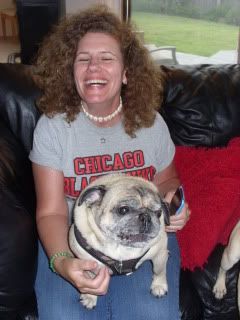 Hank and Michele (he was probably telling her an off color joke!)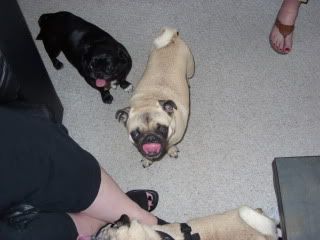 Pugsly (my BPF/Life partner) and Lola
Jess and Lilo (notice Lilo wearing her new Punchy dress!! SO pretty!)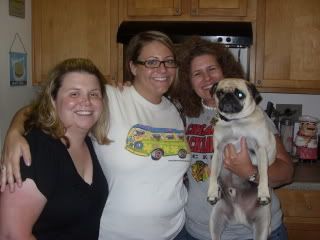 Stacy, Kelly and Michele holding me (and showing my dingus!)
Kiss kiss Auntie Jami!
Heather and Diva Lola
Our buddy Reggie Wayne (poor guy...had to leave early, but he's doing just fine now!)
Molly O'Mally looking pretty in pink!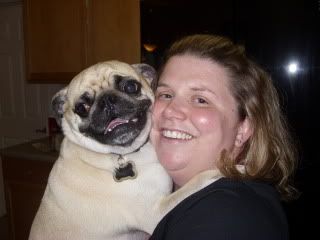 Awwww...Me and Stacy looking A-DORABLE!!!!
Here is the cake that mom made, but we wanted to show
Melissa and Emmitt
how much mom LOVES her puggy lazy Susan!!!! It's been SO helpful when she's making (and serving!) cakes!!!!
Here's Hank chatting with my Daddy....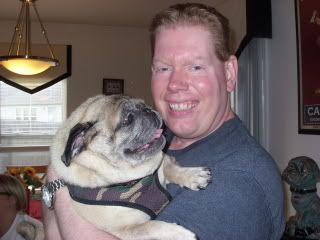 He was asking him when the "entertainment" was going to arrive!
Since we hadn't planned on any kind of "exotic entertainment" for Hanklin...mom decided to be a good sport and give Hank his money's worth!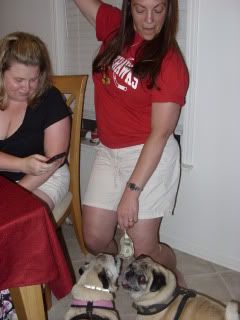 Wow...mom got a WHOLE dollar just for shaking it for Hank!
The dollar was a good thing...but then Hank decided that he wanted to see more booty dancing!
He's saying "HAAAIL no! I don't wanna go....I wanna stay here with the DAINCIN' GIRL!"
Shortly after that, all my friends went home (with their crazy peeps!) and Dad, Michele and Mom stayed up late and being loud watching the Blackhawks WIN the STANLEY CUP!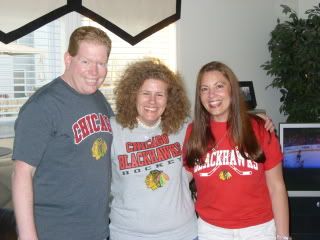 Way to go 'Hawks!!!!!!
(Mom must clarify that she's first and foremost a Red Wings fan...but then after that, she will always root for an Original Six team to win the cup).
Ok...enough fun and excitement for ONE evening....stay tuned for more fun with Michele in a part 2 bloggie tomorrow!!!