WELL...it's that time of year again...my annual VET visit and various pokes. I actually LOVE going to the Vet's office so I'm usually ok, as long as they don't go messing around with my "brown eye"!
Mom plunked me up on the table and had to fill out this health questionnaire about me. I kept telling her to just mark "NO THANK YOU" so I could just get butt scratches and go home.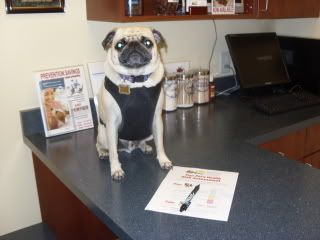 Aw CRAP...too late! Someone's here!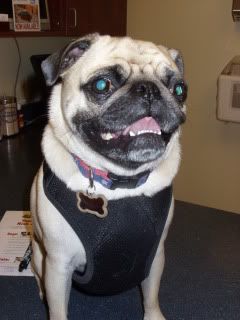 OMG...it's my favorite VetTech!
BETSY!!!!!
LOVE Betsy! She calls me "Mr. Salinger" and always has lots of scratches for me!
Then Dr. Graves came in to see me....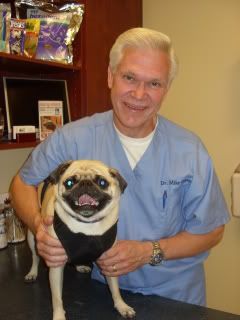 He is such a nice Vet! He whispers secrets to me and assures mom that I'm "just right" sizewise and chills her crazy overprotective butt out!!! I was a good boy when I got my shots and sat still when he checked my ears and eyes.
We also did some more visiting....THIS pic is for our buddy
Charlie the Golden
!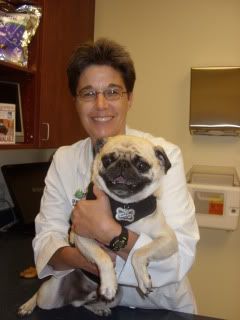 Look Charlie! It's Dr. Boucher!!!! (Charlie knows Dr. Boucher because he used to live here in Indy!)
This is Dr. Boucher's bird, Joey!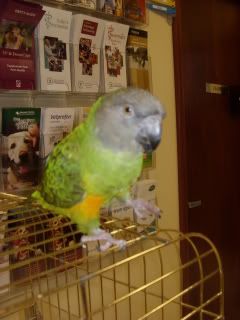 Joey was eating an oatmeal cookie for breakfast! Can you see it in her hand (claw?)? She kinda freaks me out...so we went to visit someone else...
BIG PUG!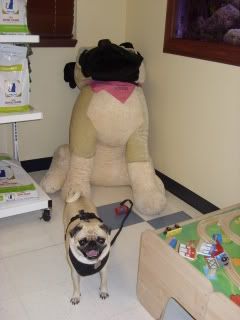 Can you believe BigPug doesn't have a NAME yet? Someone just dropped him off OUTSIDE the Vet's office with a note to please give him a good home! Now I ask you...WHAT kind of jackassery is that??????
As we were leaving....Betsy brought out a collar and said that it was too small for all of their big doggies, so it's just been sitting there. Seems that someone left it and never came back to claim it, so Betsy thought I might like it!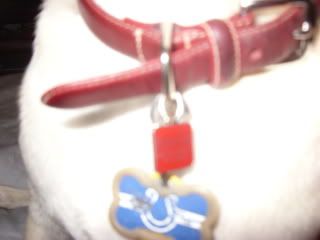 Here's a pic of the same collar from E-bay (click to biggify)
COACH MAKES DOG COLLARS!!!
Being a "Pug off the old block" LABEL WHORE like my daddy....I proudly showed off my new collar for him when he got home!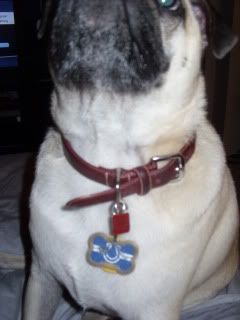 Of course he LOVED it! He likes all that stuff with little horsies and alligators on it.
SO...my trip to the vet was AWESOME!!! I wonder what someone might leave behind the NEXT time I go? We're crossing our fingers for a nice new Kate Spade bag for mom!
Happy FRIDAY everyone!!!!