TWO WEEKS AGO (ahem) was our monthly meetup in Broadripple Park! It was kind of a rainy, crappy day...but that didn't stop a bunch of my friends and I from hanging out!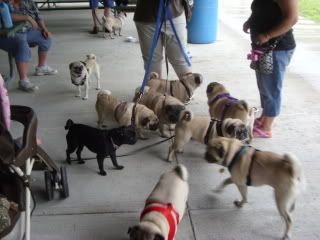 As usual...the peeps had to get all up in Pippin's face!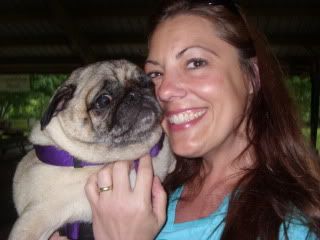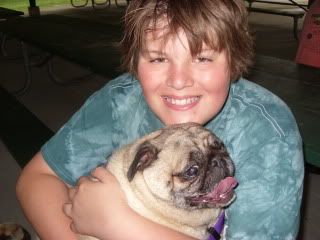 Poor Pippin! He must think "Aw $#it!" when he sees my people coming for him!
My buddy Claude was there too!
Hey Claude! WHEN is that daddy of yours going to start blogging for you???????
Hank and Molly O'Mally were there too....off sniffing with the rest of us, so Holden and Aunt Sarah posed for a nice pic...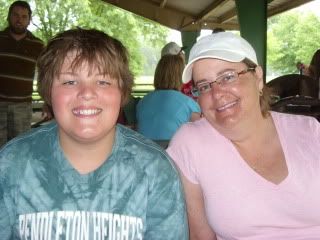 Awwww!
Since it was raining...we were under the pavillion in the park to stay somewhat dry. There was also a graduation party being set up in the pavillion. There was a DJ there setting up the sound system, so HANK had to run over and tell them what was what....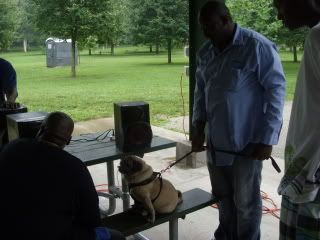 Hank's saying, "Now listen here, yer doin' this ALL WRONG!"
They didn't follow Hank's sage advice, so Hank showed them what he thought of their wiring job...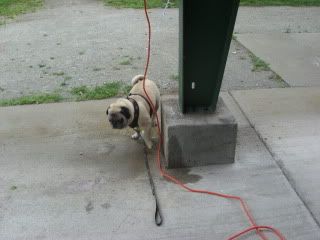 HAHAHA! You show 'em Hanky!!!!
The rain was REEEEALLY starting to come down so it was time to give mom "the look"...
"Can we PUUHLEEEEEEEZE get out of here???"
Here's a good shot of some of our pals leaving....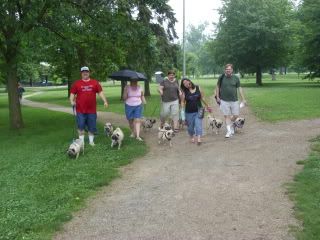 That's Denny (from the Pug Posse)
Sarah (with Hank and O'Mally)
Vikki (Pug Posse)
Jami (Apollo)
and Mark (Claude...whose bloggie is still nonexistent)
See you all in July (or before!)