Last week, mom and Holden loaded me into the car, stopped at Petco and bought me THIS farkakte thing...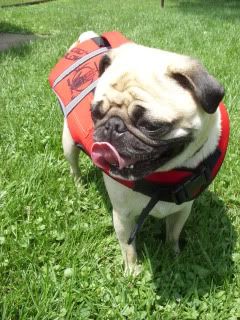 Dude...seriously....it's SUMMER and eleventy thousand degrees out here! Do I really need a JACKET????
Then we kept driving over to
Hank and Molly's
house!!! OOOHHHHH! This ought to be good!
WOW! They have a GIANT BATHTUB in their backyard!!!!!!!!!!
I like taking a bath, so mom figured that I might like to try SWIMMING too! At first I wasn't too sure....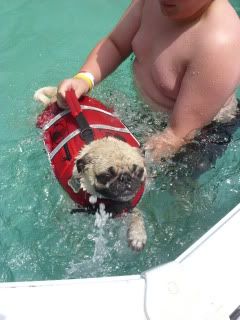 HAAAAAAAAAALP!!!!!!!!
But with Holden's help....I REEEEALLY got the hang of it!!! Check me OUT!
Eat my dust Michael Phelps!!!!!
I took a little break and did some poolside lounging with Hank (he perched his booty up on the TABLE!)
He was looking for someone to bring him a Mountain Dew (it really was too early in the day for PBR) and his Nascar hat for some shade!
I hung out with O'Mally too...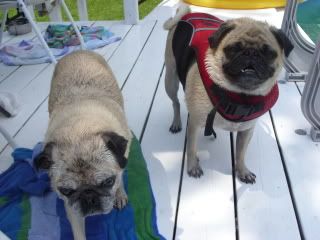 Oy VEY...that old bird can YAP about her Lumbago, her damn-good-fer-nothin'-grandkids that never call, write or visit AND she was pretty honked off because she was missing Matlock on TV that afternoon.
Thanks for having us over
Hank and Molly
(and Sarah & Scott too!). We had a BLAST and I can't wait to come swimming again!
NEXT time...can I go SKINNY DIPPING instead of wearing this stooopid red thing????
***Mom's note*** Don't forget to check out (and leave a comment on) our
TASTE OF THE WILD post
to be entered for a prize package from their nice rep, Tara!!!! Winner will be drawn WEDNESDAY!!!!! IF for some reason, you can't comment....just send us a pee mail at LAURA0227(at)YAHOO.COM and we'll put your name in the hat!