The other day, Mom and Dad spent a few minutes discussing the almost visible "smell lines" coming off of me, so I got to play in the bubbles!
Ahhhhhhh...scrubby scrubby!
WAIT a minute!!! You're taking nekkid PICTURES of me in the tub????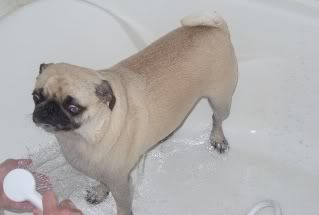 Oh no...I hope Pugsley doesn't see this!!!!
Don't skimp on that tummy rinse Mom!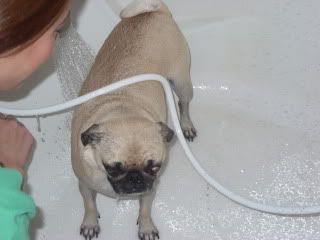 You don't want me scratching and rolling around on your bed tonight to itch myself!
Normally when I get out of the tub...I run CRAZY right into Mom and Dad's closet (it's connected to their bathroom) and SHAKE SHAKE SHAKE!!!!!! (HAHAHAA all over Dad's "label whore" clothes!!!!)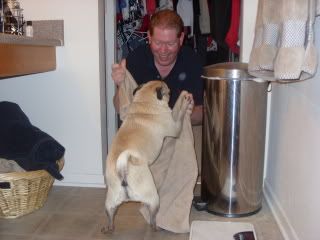 BUT...he roadblocked me this time!!!!! Aw CRAP!
SO...I had to run crazy through the rest of the house....here I am in action!
CRAAAAAAAAZY!!!!
So funny...everyPuggy we know does this apres-bath!!!! What gives????