Ok, we're TOTALLY out of excuses at this point...but it's taken us FOREVER to get this post up (sorry Tara!).
A while back...we got an email from a nice lady named Tara who apparently has some pretty important connections in the world of Doggie Foodables! Check it out...
Hi Laura,
I'm Tara and I'm contacting you from Woodruff Sweitzer on behalf of Taste of the Wild Pet Food. I trust you will get this email into the right paws...directly to Salinger!

So, Salinger, I was wondering if you might be interested in trying a new grain-free canned food from Taste of the Wild? If you're not familiar with Taste of the Wild, it is an all-life stages food that is formulated to meet your nutritional needs throughout all stages of life, from puppy to senior years. Taste of the Wild lets hoomans like your mom satisfy their dog's instinctual cravings for those foods you could find in the wild! It's made with real roasted meats and supplemented with fruits and vegetables, which means superior taste sensation, highly digestible energy and natural antioxidants to support a healthy immune system and overall health.

If you're interested, I can get some samples out for you to try and you can share your thoughts with your friends and readers of your blog. And because I know we all like free stuff, I also have a give-away pack you can provide to your readers. The pack includes three samples of the Taste of the Wild canned food and three samples of the dry food. We're also including samples of Bright Bites, a Bright Bite collar, a copy of the book "101 Dog Tricks: Step by Step Activities to Engage, Challenge, and Bond with Your Dog" and a $30 gift card to DoggieFood.com. I've attached an image of the gift pack to this email.


Woof,
Tara
She also attached THIS picture! HAHAHA
It made us laugh because it reminded us of a RANSOM NOTE!!!!
We told NiceLadyTara that we'd be happy to try Taste of the Wild because we hear a LOT of good stuff about it! A few of our friends eat it and we understand that it's REALLY yummy and full of good stuff.
SO...check out what I got in the mail a few days later!!!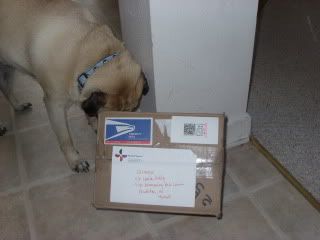 WHOOHOO! Mail for MEEEEE!
Wow...there's a LOT of stuff in here!
Here, Mom...read this note, please!
Go ahead and click if you need to biggify....
WOW...how nice!!!
JACKPOT!!!! Ms. Tara must have known that I'm a poor starving pug and sometimes mom goes HOURS without feeding me anything!!!!!
I was so weak from hunger in this picture, I was delirious and thought I was seeing a mirage!
Ok...first up for the taste test is the "High Prairie Canine Formula"....made with roasted BISON and VENISON!!!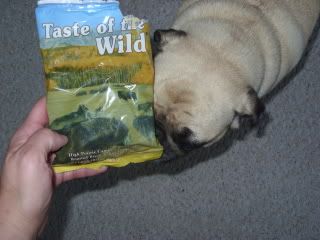 PLEEEEASE hurry...I can barely hold my head up!!!!
Mom was shocked that the ingredients list reads so much better than the school lunch menu at Holden's school....but she digresses......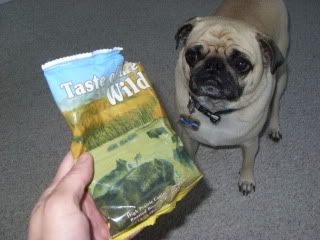 OPEN IT AND FEED ME FOR PUG'S SAKE!!!!!!!!!!!!!
Mom gave me an "amuse bouche" first (tiny taste)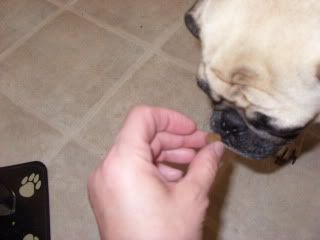 Nummy....tastes like MEAT!
NomNomNomNomNom!!!!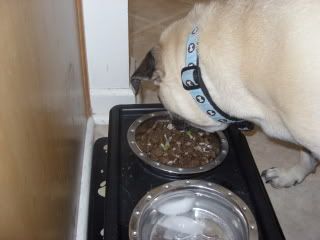 This bowl was empty in like 3 seconds!
We have to report that the Pacific Stream (with salmon!) formula and the Wetlands formula (with quail, duck and turkey) went down my piehole just as quickly as the first bag did!!!!
SO....overall...we give Taste of the Wild a big PAWS UP!

NOW.....Ms. Tara has kindly offered up a PRIZE PACKAGE (see above) to one of our lucky readers! If you're interested in winning this delicious swag...leave us a comment here and one day next week, we'll choose a winner at random (and of course post all about it!)
****DISCLAIMER**** If you are concerned, please check with your Vet about any questions about how your furkid might do with this food. Mom is NOT a veterinarian and is not qualified to answer your questions about special medical conditions or dietary needs OR whether organic Pygmy rainforests might have been affected in the manufacturing of this food (although we kind of doubt it!). For more information...check out the Taste of the Wild website by
CLICKING HERE
.
GOOD LUCK EVERYONE and Bon Apetit!!!!