**Warning** long post. Grab a snack and get comfortable!
So I was ALLLL excited because Mom turned 40 this weekend and I figured I could spend all day in her lap giving birthday kisses and sharing cake with her. WRONG!
The Peeps went on some kind of "surprise mystery trip" (according to dad) and I stayed at
Little Rascals
(which was fun...but whatevs). Since the peeps ditched me, Lloyd and Gail decided to help me have my OWN birthday party with their pugs Rocky and Daisy! Check us out partying like rock stars!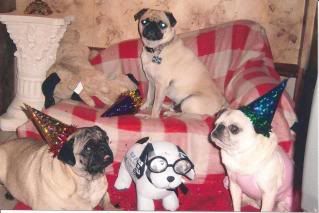 I'm in the back (I refused to wear the hat!) and that's Rocky and Daisy in the front with the stuffed 40 autograph dog that Lloyd and Gail got for mom too!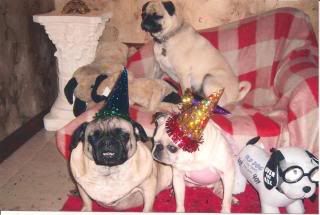 WHOOHOO! What a PARTY!!!!!
Lloyd and Gail even got mom this COOL card for me to give to her!!!
They even got mom FLOWERS to go with the nice card and autograph dog!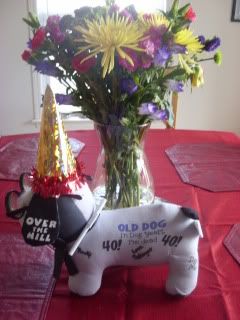 HAHAHAA...the dog says "in dog years I'm DEAD!"
THANK YOU Lloyd and Gail!!!! Mom's eyes got all leaky with all of this!
SO...Mom missed her own party that I had for her with my Little Rascals friends SO yesterday after she picked me up....I gave her the "brown eye" treatment all day!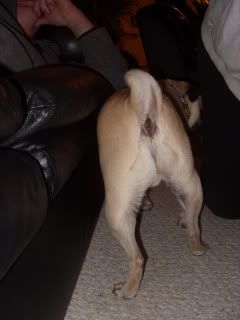 That ought to fix her!
Mom has been yacking about what a FAAABULOUS time she had all weekend so I guess I can let her share some of her pics. Please note no pugs ANYWHERE....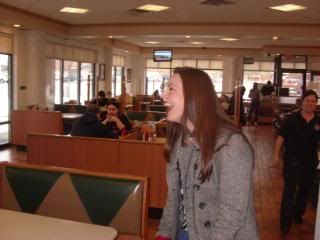 SURPRISE!!! Dad and Aunt Susan arranged a SURPRISE party for mom with all of her old school friends!!!! Again...note the blatant lack of PUGS.
Aunt Susan, Uncle Tom, Olivia and Elyse were there!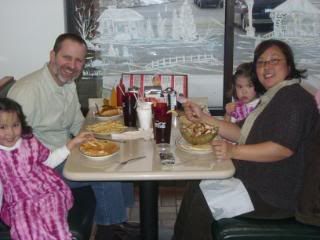 Kyle
and Bob were there!
The Lustig Family was there!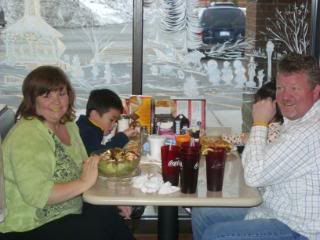 The Calleja Family was there!
The Hughes family was there!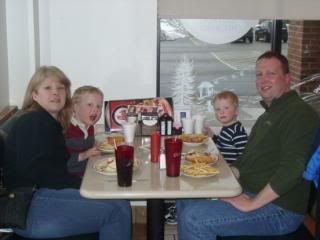 And one of mom's bestest high school friends (that she hasn't SEEN since then) FLEW IN FROM ATLANTA!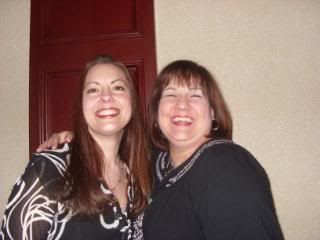 It's mom and Lisa!!!
There was a LOT of laughing.....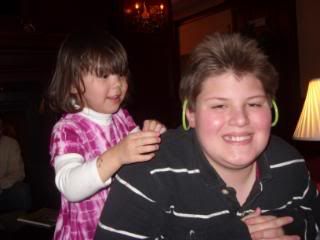 (note, NO PUGS)
and silliness....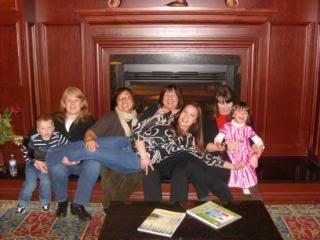 (Team Estrogen....SANS PUG!)
lots of great catching up with old friends...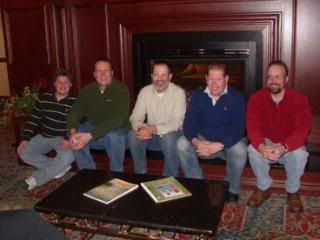 (Team Sausage...SANS PUG!)
helpful and age appropriate gifts...
(hmmm...STILL no pug)
and of course...CAKE!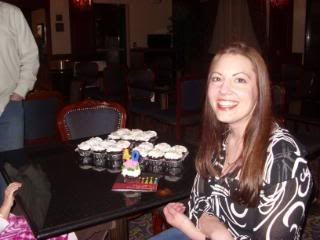 With LOTS of frosting...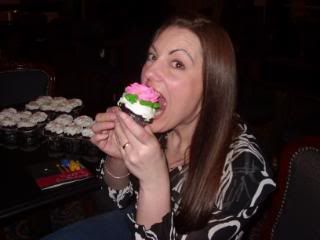 Ok...maybe TOO MUCH frosting....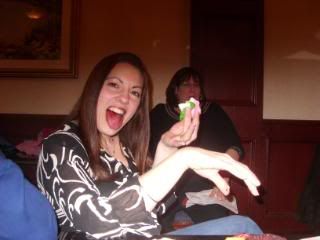 Birthday snuggles from Holden and daddy...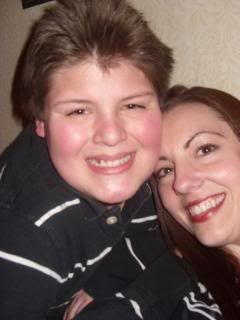 and THESE...after a trip to Windsor, Canada!
The elusive red Team Canada Olympic mittens!
Mom wants to say THANK YOU to Daddy and Aunt Susan for planning the whole weekend and making it the BEST birthday ever!
So mom had a great birthday weekend....I had fun at
Little Rascals
....but I'm still going to be sticking with the Brown Eye treatment for a little while longer!
Happy Tuesday everone!