The whole world smiles with youuuuuuuuuuu....
Hi everyone!!! Check me out!
DENTASTIX® Treats | Doggie Dentures: Denture Your Dog | Oral Care For Healthy Teeth | PEDIGREE®
While you're there, you can upload your 4 legged child and see what they look like with dentures!
Actually....mom is looking a bit too closely at my new grill and thinks she notices a "bi-lateral crossbite"...which means I have something else in common with Holden. Check out what HE got to do the other day...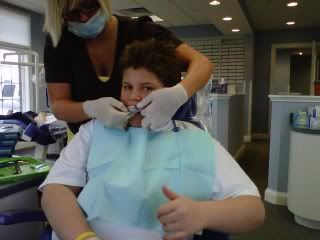 That's right...he got some impressions done of his piehole so they can make some of THESE for him!
He's not overly excited about the whole situation...and neither is mom really. She said visions of a nice vacation for them in the near future kind of flew away with cartoon dollar signs with wings...like THIS...

That's ok....it just means the peeps get to stay home with MEEEEEEE!
Happy Thursday!