Happy Sunday everyone!!!
Mom had a very cool experience yesterday. She did her FIRST Pug transport and helped 4 darling puppy-mill puggies from Kentucky get to their destination of Vermont to live with some nice foster families (and eventually forever homes!) with
Green Mountain Pug Rescue
!
Mom drove Leg 2 (out of 15!) to get the sweet puggers started on their long trip to Vermont! Here are a few pics...
Mom *THINKS* this is Amy Pug.
She was a MAJOR wiggleworm and wiggled out of her harness and ran butt-nekkid through the McDonalds parking lot!
Amy had what could have been a twin sister named Carly Pug (mom can't remember which was which!). She was a bit less wiggly...maybe downgraded to "squirley"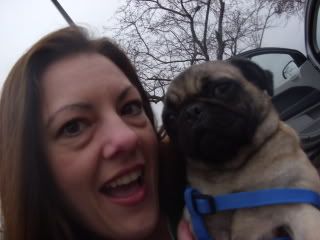 Yeah...mom is rockin the sexy "just rolled out of bed" look. Eeesh.
This poor guy is Rico (yes...as in Suave!)Pug.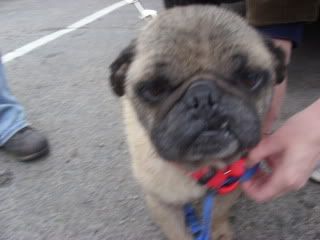 He grunted a lot and seemed kind of irritated with the whole deal (who could blame him really?). He was missing the hair on his tail and bottom and seemed almost relieved for a nice road trip to a much better life!
This little sweetie is Dustin Pug. Mom almost "hijacked" the transport back to our house because of this guy.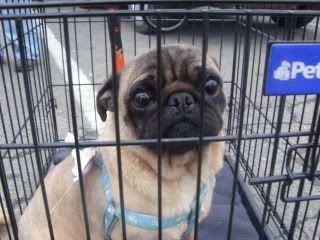 His crate was in the front seat and he sat waaay over against the edge next to mom and stared at her with his tail wagging for the WHOLE trip...like this...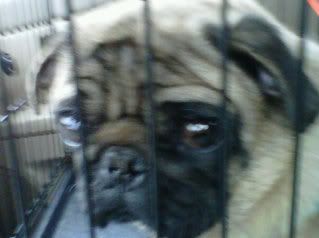 She drove with one hand in between the bars and gave him ear and chin scratchies the whole way.
Mom met a nice lady named Myla from Terre Haute and Amy and her husband from
KPR
and got them all ready to go....
A quick harness change....
All loaded up and ready to go!
Don't worry...we didn't forget the road trip snacks!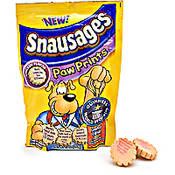 The puggers were safely delivered to a nice lady named Marie in Richmond, IN and we understand they are almost at their final destination in Vermont this afternoon!
When Mom got home....she smelled funny and I could TOTALLY tell she had been CHEATING on me (again!)
I'll let it slide this time since it was for the good of PugKind!!!!
Enjoy your journey Amy, Carly, Dustin and Rico! Mom says she's glad she got to share a little bit of time and love with you yesterday!
Happy Sunday!