You won't believe THIS! Does everyone remember the post we did about the poor PUG in the jail cell in the Meijer ad a few weeks ago?
CLICK HERE
to see it....go ahead...we'll wait while you refresh your memory.
(Hold Muzak playing.....)
OK....it's terrible...right?
WELL....LOOK at what those clowns featured in THIS week's ad!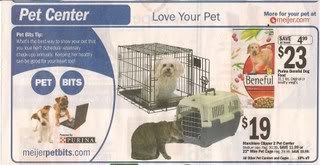 DO YOU SEE THIS????
That little white dustmop is in the cage with the door OPEN! What did HE do to deserve to be "sprung"???? Is he in cahoots with that shady looking CAT on the outside????
WELL...it's still a terrible ad because of the bleakness of the crate, so mom went nuts and decided to follow your suggestions and "PIMP MY CRATE"!!!
Look at this...
Fuzzy dice!
I wasn't digging them...I think daddy won them at the State Fair or something...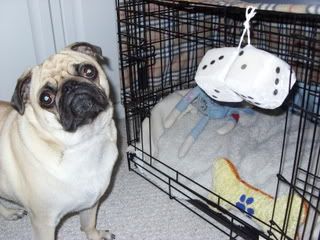 WHY did you hang those stupid dice up, Mom? They make my crate smell like CARNIES and FUNNEL CAKES!
Good thing she took them down right after that picture was taken. I was NOT amused!
SO...mom is NOT ambitious enough to have a contest where people send her submissions and all of that, but she will throw that out as a cool theme for those days when Blogger Writers Block hits....PIMP DAT CRATE!!!!
Let's see what you've got!!!
Happy Thursday!
We expect great things from all of you! Good luck!